This got me thinking. If the best places to work are based on the people that work there then naturally the key to creating a winning environment is finding, attracting and hiring great people. So while Glassdoor ranks companies based on what they are doing within their walls, I thought I'd look at what these great companies are doing outside their walls in terms of hiring the best people. So I went on an exploration that lasted me a couple weeks to truly understand what recruitment marketing strategies these amazing companies were implementing. I looked at their talent acquisition technology, their career pages, their content like video and even their employer brands. Through my search and analysis, I created some charts, compiled some observational data and most importantly I extracted meaning. And this meaning is outlined in this post to hopefully give you and your team a glimpse into what top companies are doing to hire amazing talent and give you a leg up on your competition. And for a list of the companies we analyzed, you can visit
Glassdoor's Best Places to Work
.
Note: If you're interested in the details of my methodology you can see the end of this post.
Recruitment Marketing Lessons from the Top 25 Companies
Talent acquisition tech stack
Amongst the top 25 best places to work, the type of technology that is used for talent acquisition is plentiful, which is not surprising since there are hundreds of technologies in the space. Have you seen the HR Technology Landscape Infographic? If not, I added it to this post. If you're interested in a viewable version you can go directly to
Capterra
. In any case, I think you can get a sense of the overwhelming landscape by just glancing at the splattering of logos.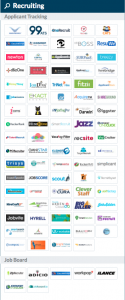 At least it's not marketing technology…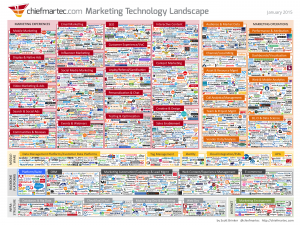 When I looked at the top 25, however, there were a few talent acquisition technologies that stood out.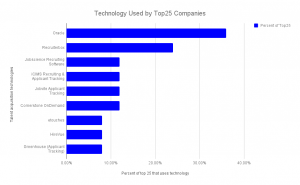 Oracle, used by 38% of the top 25, leads the way, although this number combined their recruiting, applicant tracking and talent management systems. The other stand out was Recruiterbox which appeared in a quarter of these companies. Recruiterbox was more prevalent than Jobscience, iCIMS, Jobvite, Cornerstone and Greenhouse which are all well-known in the space. Once you get past the ATSs, CRMs and recruitment software, you'll see video interviewing software (HireVue) and event management software (etouches) pop up. What this list doesn't include is all the candidate engagement tools like chat, texting and AI although inside information tells me that Brazen does work with a few of the companies on this list.

Let's take a look at career pages.
Career pages
Whereas the results of the TA technology analysis showed no major winners, the findings on the careers pages of the top 25 companies in Glassdoor's Best Place to Work list showed some promising insights. Some of the themes were so overwhelmingly common amongst this group that if you're not currently doing them, they should jump to the top of your priority list immediately. To make it easier to discuss the career page themes I decided to break the careers page down into 5 dimensions: video content, employee stories, employer brand, the apply now button and, as extra credit, whether or not they listed the Glassdoor award.
Video content
Video content on the careers page is turning into a megatrend with 56% of the companies in the analysis producing and publishing video. However, not all video is created equal. The better produced video content included everything from employee interviews to life at the company to why one should join the company. In contrast, some of the poorer produced videos talked too much about what the company does which felt more like a video for the about page than for the careers page.
I will also add that from a user experience perspective, some of the videos were way too long (3+ minutes!). The best companies made shorter videos but made more of them. For example, HubSpot did employee interviews with employees from specific departments. It made it more targeted, more relevant and more impactful for the candidates looking to join a specific team or department.
Employee stories
As an extension of video, employee stories were also very common on the career page. Of the Glassdoor Top 25 Best Places to Work, 64% were creating some sort of employee story in myriad forms (my methodology for this data point was very loose. I was very lenient in the way in which I defined "employee story").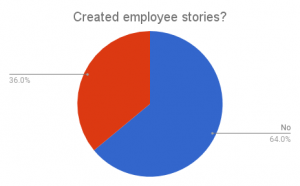 On one end of the spectrum, there were employee testimonials. On the other end there were actual articles or write ups of employees from the company describing a day in the life. Obviously, this end of the spectrum was much more compelling and offered a deeper view into the company and culture. But the point is, these companies are creating a perception around their company that moves well beyond the job description which leads to the third dimension I reviewed on the career page.
Employer brand
I think the previous two dimensions naturally lead to this third category: the employer brand. And the one thing all 25 of these companies had in common was a strong employer brand that lived on their career pages. Like before, the clarity of the employer brand varies, but all of these companies talked about their mission and vision or their core beliefs or their culture on the careers page. For example, Facebook talked about how two of their core values are "Move Fast" and "Be Bold." In addition to describing what these mean, they are supported by employee stories and videos. The 'find a job' portion of the site is hardly the focus. Facebook would rather you learn who they are and what motivates their employees, think about if this aligns with your own values and beliefs and then and only then give you a path to apply. By having you qualify yourself, it allows Facebook to only invest in top candidates that are a fit for Facebook. No wonder they were rated the best place to work.
Apply Now
The penultimate category I analyzed was the prominence of the 'Apply Now' button on the careers page and what I found should not be a surprise. Only 12% of these companies weighted the 'Apply Now' button over the employer brand, the videos or the employee stories.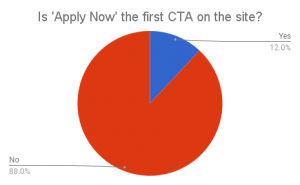 I think this speaks to the fact that really savvy and successful companies realize that the actual 'apply' part of the process is secondary or even tertiary to humanizing the brand. I think the smart companies are finding more and better ways to engage with candidates sooner in the funnel which is necessary given that talent is so hard to come by these days. But one thing that I did notice is that almost all these companies still rely heavily on the online application and the resume once a candidate is ready to apply. They almost all required me to create an account and that was usually step 1 of 10 of the grueling obstacle course that has become the application process. I believe there is opportunity for even the best companies to further improve (or, even better, an opportunity for your company to get a leg up on the best of the best). One way to do this is to use chat or messaging platforms to chat with candidates online at specified times. At Brazen, we call these chat events and you can
watch our awesome one-minute video on chat events
to learn more. In short, chat events rely on a communication method that billions of us already use in our day-to-day: chat and messaging services like Facebook messenger and Slack. Plus, these chat events help you sell your company and show top talent that you're humanizing your brand in the purist sense of the word.
Key takeaways
The top 25 companies that I analyzed over the past couple weeks all share one thing in common: they hire some really great people. And the people make the company a great place to work, not the other way around. If I had to distill all of this down into a couple key takeaways, here's what they would be:
Humanize your brand
If your job is to hire people in order to replicate what these amazing companies have, then the first key takeaway is that you must humanize your brand. This is supported through the contents of the career pages. Video, employee stories and deemphasizing the Apply Now button will support the humanization of your employer brand. But that is just the start.
Change the way you engage with candidates
I think the other key takeaway from this analysis is less about what I found and more about what I didn't find and that is that companies have a huge opportunity to change the way in which they engage with candidates. Yes, we saw that the Apply Now button is being relegated and replaced by great content. But if you truly want to humanize your brand, you must bring the human into the conversation.

Extra Credit: Glassdoor
I bet you thought I forgot about our extra credit. Well, I didn't, so here ya go.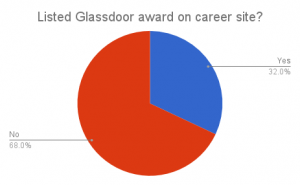 The last thing I looked at was whether or not these 25 companies that won this prestigious award indicated as much on their career site and surprisingly only 32% of the companies did. I think an award of this magnitude can only help attract more great talent, build momentum and make the best even better. It'll be interesting to see the movement of these companies on the list next year.
Methodology: For the most part, I combed through the career sites of the top 25 companies listed on the Glassdoor Best Places to Work. For the technology analysis, I leveraged DiscoverOrg which is able to provide a comprehensive list of HR technologies by company (although this list is likely not exhaustive).
P.S. Can we send you an email with our awesome talent acquisition content every week or so?
We won't overwhelm you and we'll make it easy for you to unsubscribe if you ever choose to do so.