It's no secret that virtual events have become more and more popular since the start of the pandemic. But it's been simply fascinating to see all the different ways in which organizations have not only made them their own, but are ushering in a completely new stage for this versatile technology with the introduction of hybrid (part in-person, part virtual) events. And the timing for this hiring industry evolution couldn't be better, with job seekers themselves driving demand for this technology based on their resoundingly positive experiences with virtual events so far.
To give you more insights into the newest tech trends for 2022 on the employer and TA side, we've published the 2022 State of Hybrid Recruiting Report. In this newest research, we interviewed hundreds of hiring professionals (from TA specialists to Directors and C-Suite executives) across various industries to find out exactly how they're currently using virtual and hybrid events to engage top talent and achieve better hiring results.
The key findings in this report identify:
TA professionals' hiring needs, challenges, and goals in 2022
Virtual event usage
Reported benefits of virtual hiring events
Hybrid recruiting adoption numbers and facts
The best hybrid event models, as rated by the TA experts who have actively implemented them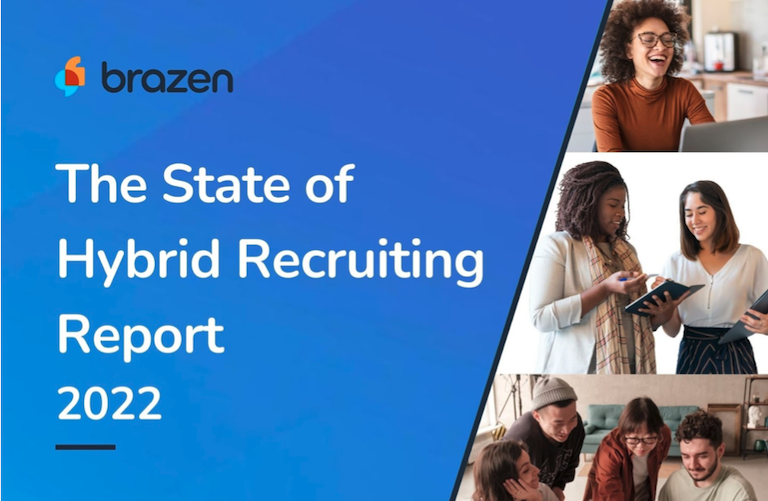 Additionally, we included data from job seekers and candidates analyzing how they reacted to virtual events, as well as how likely they were to attend virtual events in the future.
So if you've ever wondered how different organizations across all industries are leveraging hybrid hiring events right now (and whether or not yours is keeping pace!), then this compact and easily-scannable report was made for you.
Download it for free here or by clicking on the preview image above.

Curious if a virtual or hybrid solution is the future for your company? Sign up for a 30 minute demo and we'll show you everything you need to know about how Brazen reaches more candidates and converts more applicants to accelerate your hiring, both virtual and hybrid.

Like this post? Try these!
Stay in the Loop. Join 10,000+ Talent Acquisition Leaders