We all strive to see better representation within our organizations. Educational institutions especially need to reflect society's ever changing cultural makeup.
But how to approach diversity with sensitivity?
Ideas of race and culture are often accompanied by extremely passionate sentiments. Yet it is possible to effectively navigate these waters. Diversity should not be a taboo subject. Like all students, high caliber prospects are seeking acceptance. Universities need simply demonstrate that they are welcoming. To do that, our differences need to become part of the dialogue, not just the brochure. Throughout the years I've observed many techniques used in recruitment. The following four have been the most effective in increasing the enrollment and retainment of top level talent from diverse backgrounds.
1. Social media representation
Millennials use social media to identify with each other, and with the world. A picture taken while wearing a favorite brand forges a connection for all to see. So does a photo snapped at a campus rally. But social media integration goes beyond pictures. Prospective students should definitely see faces that look like theirs on your school's Instagram. They're also are savvy enough to spot a photo op. What's required is student-curated content. Platforms like blogs, videos, and even certain apps foster engagement on a deeper level.
Schools need not requisition this content. Current students are already creating it. Share with them a simple hashtag for your university. That way, posts which relate to campus life are conveniently indexed. Then, share select pieces from students with your official university accounts. To maximize effectiveness, all of this should be done on multiple social media platforms. That's not easy. But these efforts will pay off. Nothing beats authenticity in marketing. Prospective students don't want to be subjected to a promotional campaign. Instead, provide them with stories from their peers.
2. Faculty involvement
Apart from their classmates, students see professors most often. Is your university's faculty culturally diverse? And if so, are they involved in the recruitment process? Diverse staff should be be visible and accessible. It should be clear that diversity is supported on all levels of an institution's hierarchy.
Reaffirm to professors the integral role they play in these communities. The scarcity of minorities in such positions make each the more important. Once you've attracted diverse talent to your school, they'll need mentors, people who have been on both sides of a teacher's desk. Open houses are great opportunities to spark such meetings. Professors can share experiences about their time in academia. These students are undergoing one of the biggest transitions of their lives. Having someone who knows what it's like can make all the difference.
3. Diversity and culture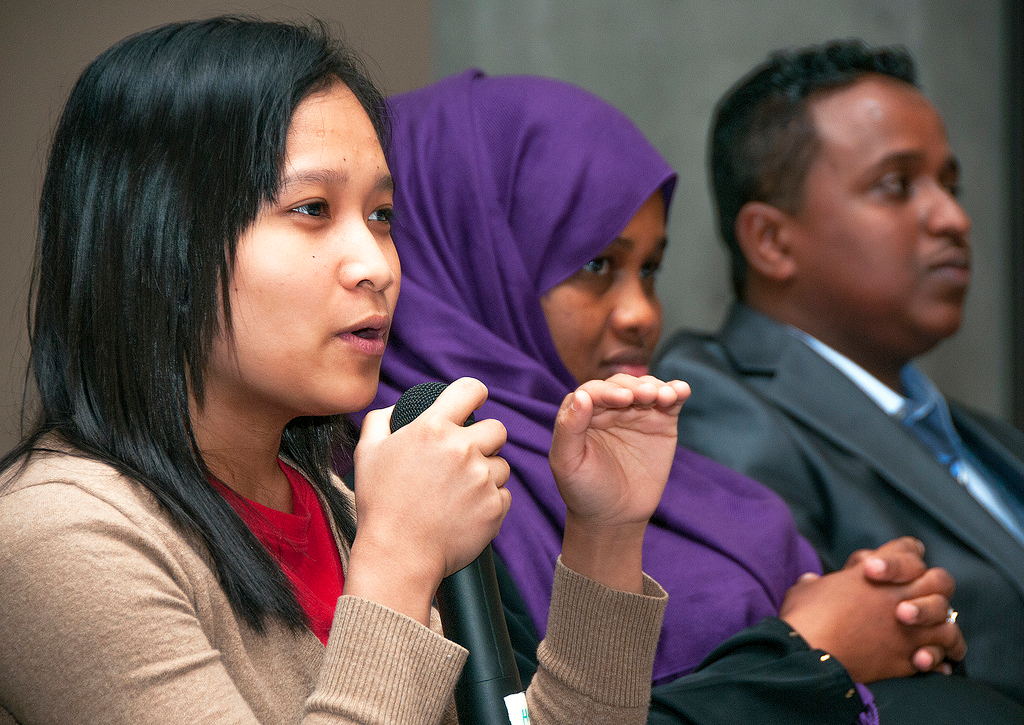 Sometimes we forget that diversity is more than just a quota. Universities must be genuine allies in the issues which affect marginalized communities. In this era of social consciousness, exploiting people's culture will undoubtedly backfire. Behind every one of these applicants is a rich history. There is a universality in the plight of the disenfranchised, and it is crucial that your school is represented as a place open to these conversations.
Once again look to your current students for this. Cultural clubs can be found on many a campus. They serve as important social hubs and mouthpieces for the respective community. Many often lack support and funding. Consider ways your administration can provide resources for these initiatives. Isolation is a common problem among minority students. Ensure that they have a support system already in place, one which is able to meet their unique needs as diverse individuals. Some of these students come from groups at high risk for dropping out. Retention is directly linked to feelings of belonging.
4. Networking opportunities
The university experience extends far beyond the classroom. Relationships are often the most important resource students acquire in their time there. Throughout the admissions process, platforms should be provided for diverse individuals to meet and connect. Workshops; schmoozing events; Facebook groups, all of these are viable means. It's important that the initiatives are also available to the public at large. Conversations about diversity require a wide spectrum of voices.
Many schools implement alumni interviews during admissions. Graduates of a school are often able to provide much needed insight to new students. Since they no longer attend the university, their feedback is honest and relevant. Being able to connect with alumni from similar backgrounds shows that diversity is the norm, not the exception. Encounters like this can be all it takes to turn a "maybe" into an acceptance. Utilized in conjunction, these techniques will foster diversity on your campus. Remember, it's not an issue to be solved, but rather a goal to be reached. The idea of a cultural mosaic doesn't have to be a dream. Through inclusive practices and policies, it can be a reality. Learn more on how you can attract prospective students with more personalized communication here.
Jordy Kieto is a Toronto-based multi-hyphenate creator who muses on race. As a writer and community organizer, he has assisted families who have recently immigrated to Canada through the non-profit AJFAS.