There's never been a greater emphasis on the importance of diversity, equity, and inclusion in the workplace than in this current moment. Many more organizations are realizing the impact that a diverse workforce can have on business outcomes ranging from new ideas to fresh perspectives to improved financial performance. Additionally, these same organizations have better defined DEI initiatives, implemented educational resources for employees, and even introduced new departments to further embed these initiatives long-term. At Brazen, we wanted to be part of this movement, and even take it one level further.
What Is the Brazen Opportunity Fund?
The Brazen Opportunity Fund, sponsored by Brazen, grants the need-based use of the Brazen platform to organizations and employers committed to furthering diversity, equity, and inclusion. Within the first year, the Fund partnered with 18 organizations to generate over 13,000 chats amongst 3,000 candidates and 250 employers from sponsored events.

How Was the Fund Started?
In 2020, the topics of social and racial injustice were at the top of everyone's mind. As a response, many organizations were putting out statements, commercials, or marketing campaigns that felt like more of a 'bandage fix' than true, authentic action.
Brazen Founder and President, Ryan Healy, knew there was an opportunity to not only acknowledge DEI initiatives, but incorporate them into Brazen's business plan in a way that's meaningful and thoughtful. He wanted to launch an initiative that could be sustained long-term and create a mutually beneficial impact.
In August 2020, the Brazen Opportunity Fund was born. Starting the fund created a chance to make a difference for organizations and employers focused on DEI at a more micro-level and community-based level. "We have to remember that the most impactful change happens at a community level. A lot of large organizations get the donations and the coverage, which is great, but how else can we make an impact?" explained Anasofia Stieglitz, DEI Coordinator at Brazen and active member of the Brazen Opportunity Fund committee.

Alignment to Brazen's Mission
Here at Brazen, we believe everyone deserves a job they love. We are committed to partnering with organizations on a mission to make an impact in the workforce so everyone, regardless of race, gender, disability, or status, can feel included and find equality.
Launching the Brazen Opportunity Fund enables us to further our mission each day. We're honored to provide our services and witness first-hand the impact we're making for these organizations taking action to support historically underrepresented groups.
Stieglitz also highlighted how Brazen is setting a new standard for what it means to be an employer. "Being able to cultivate this space within Brazen that continues to grow demonstrates that this is a place where we do care about DEI initiatives and everyone has a chance to be involved."

Brazen Opportunity Fund Customer Spotlight: FAME
The Fund for Advancement of Minorities through Education (FAME) is a non-profit organization helping to educate, empower, and embolden African American students to ultimately grow into the leaders of tomorrow. They provide programming, academic support, academic enrichment, and scholarship opportunities which not only positively impact the African American community, but society at large through the contribution of its Scholars, leaders, and programs.
FAME recognizes these students' obstacles to flourish in their current academic environments and thus opens the door for change. They aim to make a difference in their Scholars' lives and provide them with the education they need to propel forward and build strong futures.

Using the Power of the Brazen Platform to Make a Difference
FAME leveraged the Brazen platform to keep their programming alive despite a global pandemic limiting the standard in-person opportunities for their community. They started off with a recruiting session, followed by a call to action in education, innovation, and advocacy featuring broadcasts from FAME's CEO Darryl T. Wiley and award-winning journalist Soledad O'Brien. After immense success and engagement from Scholars, alumni, and supporters, FAME is eagerly moving forward strategizing new and unique ways to leverage the tool for all audiences. They have informational sessions on mental health issues and social anxiety on the horizon, and are even workshopping a new program called FAME TV.
FAME acknowledges the new doors virtual event technology has opened and the team has long-term plans for continuing this momentum. Even as in-person engagement opportunities gradually make a comeback, FAME recognizes the added reach and impact these online programs have provided and knows the virtual components will remain embedded to drive their continued success.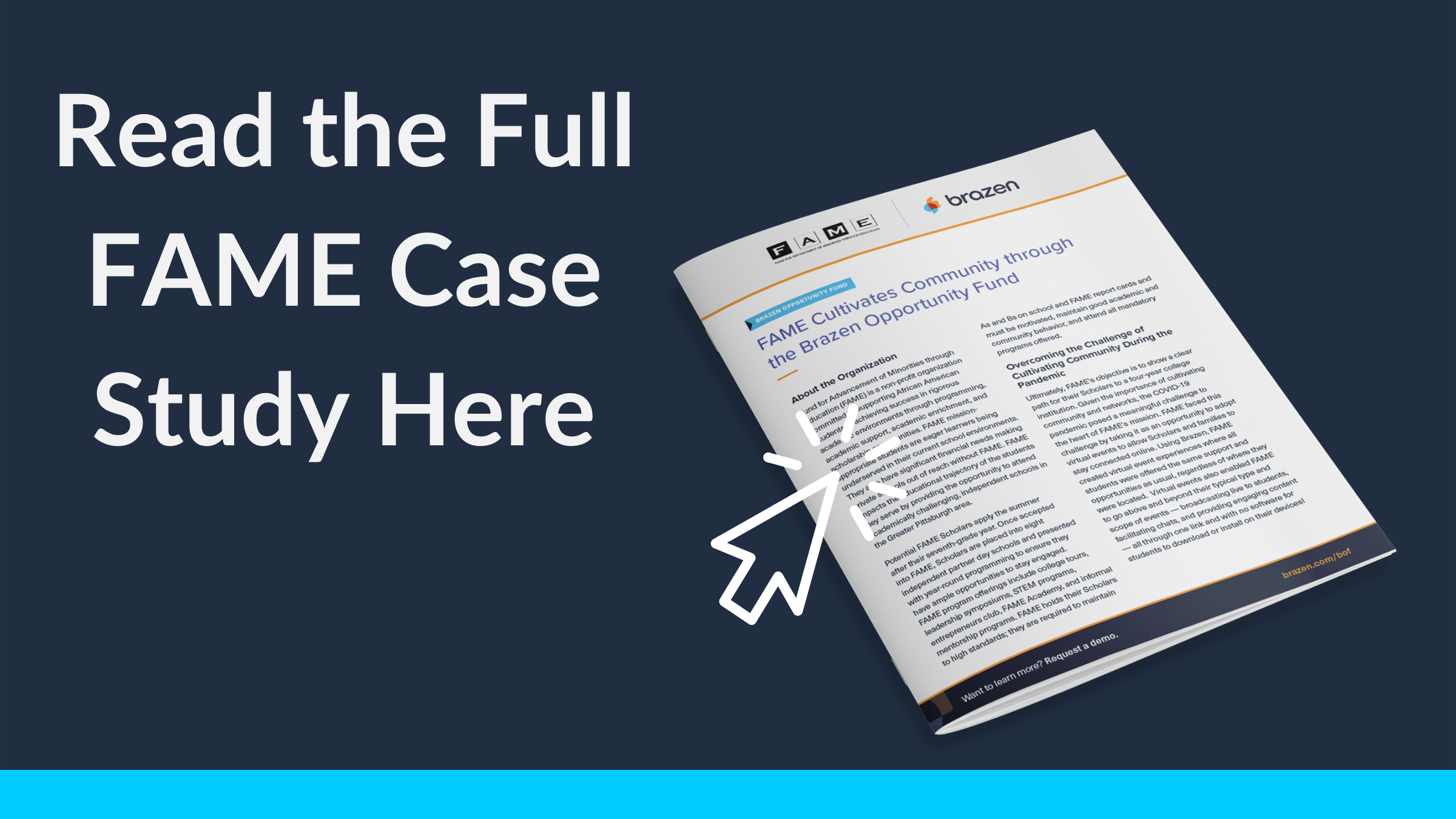 We proudly celebrate our first year of offering the Brazen Opportunity Fund. We're just getting started and sincerely look forward to the continued years to come. In fact, we are already ideating on future programming to drive even more value for our partner organizations! Seeing the success FAME and other partners have on the Brazen platform inspires us to continue supporting the Fund as part of our long-term business plan, empowering more organizations and employers to make a difference in the workplace.
Think your organization is a good fit? Learn more and apply for the fund here!

Like this post? Try these!

Stay in the Loop. Join 10,000+ Talent Acquisition Leaders