Some of today's biggest brands are using innovative and often high-tech experiences to attract new customers, build trust, and create lasting loyalty. Brands like Coca-Cola, Netflix, and Vans are all infusing marketing events with immersive technologies like augmented reality and holographic projections to excite, entertain, and ultimately engage with their target audiences.

We know recruiting and recruitment marketing follow the trends of brand marketing so these brand experiences, also called experiential marketing, are a treasure trove of recruiting inspiration. But you don't have to take it to the same level to achieve your desired results. Fortunately, in recruiting, delivering similar immersive brand experiences doesn't require a multimillion dollar budget or super fancy equipment. You can do a lot with your virtual career fairs, by hosting events that boost candidate engagement and take your recruiting beyond the conversation.
Conversation is at the heart of recruiting, and it will remain rooted there, but that's not all there is. Today's job seekers want to work for unique, innovative employers who think, and act, outside the box. Your next virtual career fair can give them a taste of what you're all about in the same way big brands using experiential marketing to create customers for life.
Here are three strategies to use virtual career fairs to create immersive brand experiences to connect with more (and better) candidates.
Get virtual with video
Virtual career fairs can save you loads of time and money, compared with in-person events, while reaching more job seekers. But you still want the human connection that is at the heart of those in-person career fairs. Video is the answer.
Your virtual career fair could consist of one video - a simple introduction, featuring a hiring manager who explains the company culture and job requirements - or you could include multiple videos. If you decide to use pre-recorded videos, you may be able to repurpose some of the recruiting videos you've already created as part of your larger conversational recruiting strategy. Live video can add an extra level of excitement. (Soon, Brazen customers will be able to add live-streaming video to virtual career fairs and other online events, giving them a leg up over their competition.)
During your virtual career fair, you have the unique advantage of having an attentive and engaged audience. They're participating because they've already made the decision to learn more about working at your organization and they probably have questions. The best way to keep them engaged is to seize the opportunity and connect on a deeper level. And that's exactly what live-streaming video does.

Stick to your brand messaging
Prepping for an immersive brand experience means it's time to get your brand assets and style guide whipped into shape. Throughout a virtual career fair - from planning and promotion, to the event itself, to the follow-ups after the fact - you need to deliver a consistent, on-brand experience just like the big brands do. If you're not sure what this means for your organization, consider your employer brand archetype as well as your candidate personas, and don't be afraid to tap your marketing department for support. For example, SSM Health not only shares videos about their culture and company but the look and feel of the virtual career fair lobby below let's you know you are in an SSM Health event.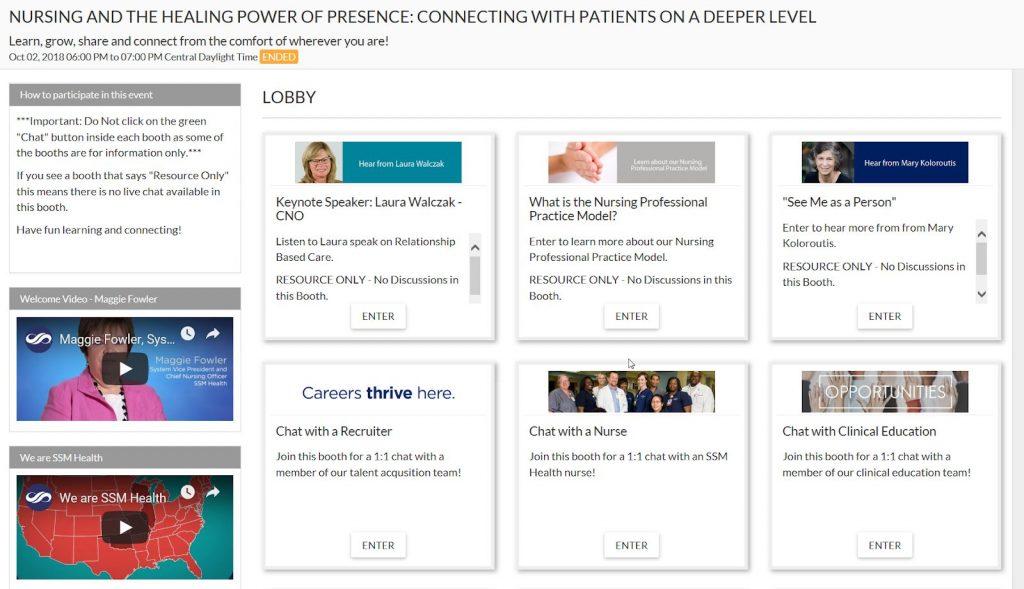 Continue the conversation
After the party - I mean, the virtual career fair is over, don't leave job seekers hanging. A virtual career fair can be like a first date. And if you don't follow up and keep the communication going, it may never develop into a long-term relationship. Keep your candidates engaged in the brand experience by following up with phone screenings, which you can actually schedule during the virtual career fair, so they have something to look forward to. And don't forget about email and text messaging (again, stay on brand!). Think about virtual career fairs as part of your multichannel approach, and look for ways to extend the immersive experience after the event has ended.
But before you clobber your candidates through every channel at once, make sure you're communicating with them the way they want you to. Ask candidates to opt-in to text messaging, and schedule communications in a way that isn't overwhelming or domineering. If you've identified some top talent you'd like to pursue, the last thing you want to do is scare them off by being too aggressive. If you're not sure about their preferences, refer back to your candidate personas and when all else fails, just ask. More often than not, candidates will be happy you did.
Hiring for your brand
If you've been in talent acquisition more than five minutes, you know organizations look for culture fit and potential employee value just as much, if not more, than they look to assess hard skills and experience. Connecting with job seekers through immersive brand experiences helps filter the candidates who understand and connect with your brand from those who don't. And as recruiting borrows more and more from marketing, organizations that hone their brand experiences will come out ahead in the talent war. Your virtual career fairs can become a lean, mean recruiting tool - leveraging the power of technology to advertise and illustrate your brand without the restrictions of geography, with rapid deployment and reduced costs, to attract and connect with your ideal candidates.

P.S. Can we send you an email with our awesome talent acquisition content every week or so?
We won't overwhelm you and we'll make it easy for you to unsubscribe if you ever choose to do so.