When you hear the term "career fair," the image that comes to mind is probably a tightly packed event space with rows of tables, long lines of candidates waiting to talk to recruiters, and ever-growing piles of employer brochures and candidate resumes. Career fairs are often held by universities, government organizations, or even within individual companies in order to recruit new talent. But the spread of COVID-19 has largely cancelled in-person events, including career fairs, leaving both employers and job candidates with fewer opportunities to connect. This is especially true on college campuses, many of which remained closed at the start of the 2020-2021 school year.
As a result, many organizations are turning to virtual events and virtual career fair platforms to meet their recruitment needs. Virtual career fairs had already been gaining in popularity prior to the pandemic, and they are poised for continued growth. Virtual career fair platforms have evolved to meet the pressing needs of today's recruiters, and should be a component of a company's overall recruitment strategy even beyond COVID-19. This step-by-step guide will share best practices for companies, universities, and organizations planning to host a virtual career fair.
What Are Virtual Career Fairs?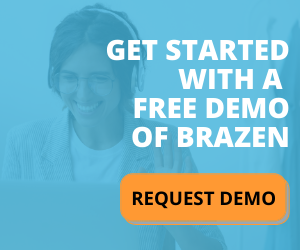 A virtual career fair is a type of recruitment event that connects employers and job candidates through an online platform. Virtual career fairs have many of the same recruitment advantages as in-person career fairs, such as the ability to host booths for multiple companies or recruiters in one centralized place. Even though virtual career fairs take place in an online environment, that doesn't mean they need to be impersonal. In fact, one of the most common goals of a virtual career fair is to facilitate one-on-one conversations between recruiters and candidates.
The key difference between in-person and virtual career fairs is that instead of walking around booths and talking face-to-face, recruiters and candidates in virtual career fairs rely on alternate forms of communication such as text chats, video, or audio calls.
Well, actually, the key differences don't stop there. In addition to alternate forms of communication, virtual career fairs offer major advantages over in-person career fairs, like the ability to provide candidates who are waiting to talk to recruiters a plethora of options to continue to engage with the employer, more efficient and effective follow up tools, and a more robust selection of candidate data that is easy to access by the employer and/or event hosts.
What Are the Benefits of Virtual Career Fairs?
Compared to in-person events, virtual career fairs offer a series of distinct benefits. With virtual career fairs, employers are no longer limited by location when seeking new candidates, which helps to attract more candidates and diversify the talent pool. Likewise, candidates are able to attend career fairs from anywhere, so any companies that were once out-of-reach due to distance might now be on their target list.
Virtual career fairs can also be much less expensive than in-person fairs. With the switch to virtual, employers and other organizational hosts will no longer need to rent a large event space and pay for recruiters to travel to the event. For universities, membership organizations, and government organizations that host career fairs, the reduced cost of participation can attract more employers and job seekers to attend the event.
Furthermore, employers at virtual career fairs can benefit from the ability to screen candidates in advance. At an in-person event, recruiters may see long lines of candidates waiting to speak with them without knowing which candidates would be the best fit for available opportunities. Some virtual career fair platforms enable employers to set up registration forms for candidates to fill out prior to entering the company event or booth so that the best-match candidates are placed at the top of the queue, making the overall recruitment process more efficient.
In addition, virtual career fairs enable employers to upload recruitment materials such as videos, brochures, active job postings, employee testimonials, social media profiles, and links to the company website or Glassdoor reviews. These features broaden the type of collateral that employers can share, while reducing the need for bringing physical materials back and forth from the office. Candidates are also able to submit their contact information or fill out registration forms. Often, this data will automatically integrate with the company's ATS or CRM so recruiters can do targeted follow-up communication after the event. .
If your organization is planning to host a virtual career fair, follow these seven steps to make your event a success.


How to Host a Virtual Career Fair

Step 1: Determine your goals
Career fairs can be used for purposes ranging from career discovery, to networking, to recruiting for open positions, internship programs, or a class of entry-level employees. The first step in hosting a virtual career fair is to determine your specific goals. For example, a university hosting an event with many companies may want to drive awareness about available internships and entry-level opportunities across a wide range of industries. By contrast, an individual company or a government organization hosting a virtual career fair may want to hire dozens of new employees that day. Further still, any organization may strive to diversify the talent pipeline and host a career event specifically to reach historically underrepresented job candidates.
Having target attendance numbers in mind is also a good idea at this initial stage. A university hosting a virtual career fair may have a goal of including 150+ companies across different industries and encouraging thousands of students to attend. On the other hand, the campus recruiting team at an individual company hosting a virtual career fair to promote internship and entry-level programs might strive for just 100 attendees that are specific to the roles that company is hiring for. Documenting your goals early will help you measure the event's success later.
Step 2: Consider the features you will need for your event
Based on your goals, think about the technical features that will make your virtual event a success. Do your recruiters need pre-screening questions to narrow down the pool of candidates? If you are looking to hire the same day, do you need video and audio capabilities to conduct on-the-spot interviews? If you are a university or membership organization hosting a large event with many employer booths, do you need a dedicated resource center that offers a "virtual map," event guide, and other information to ensure things run smoothly?
Universities and organizations hosting a large-scale event with many company participants may also wish to choose a virtual career fair platform that offers customizable booths for companies to choose which features they want. Make a list of your must-haves and nice-to-haves, then start the vendor research process.
Step 3: Select a platform
After you figure out your goals and desired features, explore virtual career platforms that suit these needs. In addition to the features the platform offers, some other criteria to evaluate virtual career platforms include how many years of experience it has, the cost, and any training options. For example, Brazen has hosted virtual career fairs since 2013 and offers a full library of training and support resources for its users.
Another best practice during the research and evaluation phase is to ask your preferred virtual event platform for case studies to understand how it has worked with clients in the past. You will want to look for platforms that have experience in helping clients of a similar size and in the same industry as your organization.
Last but not least, you will want to make sure the platform is easy to use. Most virtual career fair platforms will allow you to request a demo so you can get a feel for how it works. You should also make sure your platform offers live support in case of any technical issues on the day of the event.
Step 4: Set up the logistics for your event
Once you've determined your platform, set the date and time for the event. Then start planning the nitty-gritty details. To start, confirm the number of companies who will participate (if it's a large-scale event like a university career fair) and the number of recruiters who will be present (this applies to virtual career fairs of any scope). Now is also the time to decide if you want the overall event to have live broadcasts, webinars, or an intro session.
For a larger-scale event such as a virtual career fair hosted by a university or government organization, create an event lobby that is easy to navigate, so prospective candidates can connect with the employers they are most interested in. Figure out which companies will have booths and who will represent them. Virtual career fairs that are hosted by only one company may have booths and recruiters for individual departments or job functions.
Make sure all exhibitors and attendees have their login links before the event begins. Prior to the event, every booth representative should also have access to training and know how to work the platform. The types of training resources that may be helpful for attendees and recruiters include:
Finally, determine if you want to record any sessions or keep the booths active for a period of time after the event so attendees can peruse the company's resources.


Step 5: Promote your event to prospective candidates

Even if you've set everything up perfectly, your virtual career event will be meaningless without attendees. So how will you get people to attend?
There are plenty of marketing channels to attract job seekers. If you are a company, university, or any other type of government or membership organization, you can post about the event on your social media pages, share it on your website, and send out email blasts to candidates or students who are already in your pipeline. Recruiters may also source candidates on LinkedIn based on specific targeting criteria, such as industry, experience level, university, and job function.
Depending on your industry and the roles you are recruiting for, you may also consider launching an advertising campaign, such as ads posted on job boards, newsletters for relevant trade organizations, or targeted social media ads. Since you won't need to allocate budget for travel expenses, you may wish to increase your marketing resources to reach prospective candidates.
Once you start getting sign-ups to the event, send out email reminders a few days beforehand to ensure high attendance. Your email reminders should include event details such as date and time, the agenda (if any), and other valuable information that candidates should know in advance.
Step 6: Launch the event
When the big day arrives, get excited! To ensure a positive user experience, have a few dedicated staff members on standby to assist with any logistical questions from recruiters and candidates.
Companies participating in a virtual career fair should ensure the booth is well-staffed (we recommend 1 recruiter for every 10 candidates signed up for the event) and the recruitment materials are ready to go. For companies that have multiple recruiters participating in an event (either their own or as part of a larger event), it helps to create a cheat sheet of standardized responses to frequently asked questions regarding the job application process. This is especially helpful for a text chat feature, where the recruiters can copy-and-paste a process-driven answer and spend more time building connections with candidates.
Step 7: Follow-up after the event
When the event ends, that doesn't mean the recruitment process is over! Now is the time to analyze your event using your platform's analytics and reporting tools. Large-scale events like university career fairs may analyze data to understand which employers received the most traffic, while company-run events can examine metrics like the number of chats that occurred and the number of candidates categorized as qualified / follow up..
You'll also want to take advantage of some of the follow-up tools that some of the virtual career fair platforms offer in order to make your follow-up seamless and quick. Since candidates are likely assessing multiple organizations, the companies that can create an amazing candidate experience are poised to win. And timely follow-up goes a long way. So send emails and set up next steps either during or immediately after the event by leveraging these tools to set yourself up for success.
To receive more qualitative feedback, you can also send out a survey afterward to ask attendees about their experience, as well as how they heard about the event. If there are any pre-recorded videos or resources that will be available even after the event ends, make sure to communicate that to attendees.
Best of all, participating companies will have a new candidate pool to tap into for future job openings. Send a thank you message to candidates, as well as calls-to-action based on the candidates' status in the recruitment pipeline (initial interest, application, interview, etc.).
Get started with Brazen
To recap, virtual career fairs are becoming an increasingly important part of recruitment. The flexibility, seamless integration with applicant tracking systems, and relatively low cost make virtual career fairs an attractive option for recruiters, candidates, and event hosts like universities and government organizations. If you are looking to get started with virtual career fairs of your own, request a demo with Brazen to learn more.