Hybrid Hiring Trend Here to Stay
According to a recent survey released by LinkedIn, hybrid hiring and virtual recruiting are no longer a trend. Virtual recruiting will be the standard going forward.
In fact, 81% of talent professionals surveyed said that virtual recruiting will continue post-COVID, according to LinkedIn's survey of 1500 global talent professionals. This is just the latest report signaling the rise of hybrid recruiting.
The Future of Recruiting
So - what about the longer term future of recruiting? The pandemic has accelerated the adoption of remote work across industries, as well as virtual recruiting - from online hiring events to remote interviews, even through digital onboarding.
Talent acquisition professionals have adapted quickly - and successfully - to the demands of a fully remote or hybrid workforce. And many are seeing unexpected benefits of this approach, from reduced costs to faster time to hire, to better DEI outcomes.
According to LinkedIn: "Companies have dabbled with video interviewing and remote assessments in the past, but the lockdown realities of COVID-19 have sparked them to create an end-to-end virtual recruiting process for the first time. And they're both noting and embracing the cost and time savings that that change has brought with it. So, in the same way that a hybrid workforce of onsite and remote employees will become the standard, a hybrid hiring process that combines virtual and in-person elements will become the norm."
Indeed, for those whose industries already require some or all of their workforce to be onsite, (and as others begin to consider how they will approach a return to onsite work), a hybrid hiring model integrating a combination of in-person and virtual recruiting tactics is emerging as the new gold standard. (For more on this, read our new case study on how AdventHealth is seeing incredible results from hybrid recruiting.)
Virtual Recruiting Trends for 2021
For all of these reasons and more, LinkedIn predicts that virtual recruiting is here to stay. Their research found this sentiment is widespread.
In their survey, 70% of talent professionals said virtual recruiting will be the new standard going forward.
In a SHRM article about the future of recruiting that covered highlights this LinkedIn report, Brazen president and co-founder Ryan Healy said:
"These gains mean virtual recruiting has earned its place in the ongoing talent acquisition strategies of nearly every industry across the country, and employers will continue to use virtual recruiting alongside more-traditional in-person recruiting and interviewing once it's safe to meet with candidates face to face again."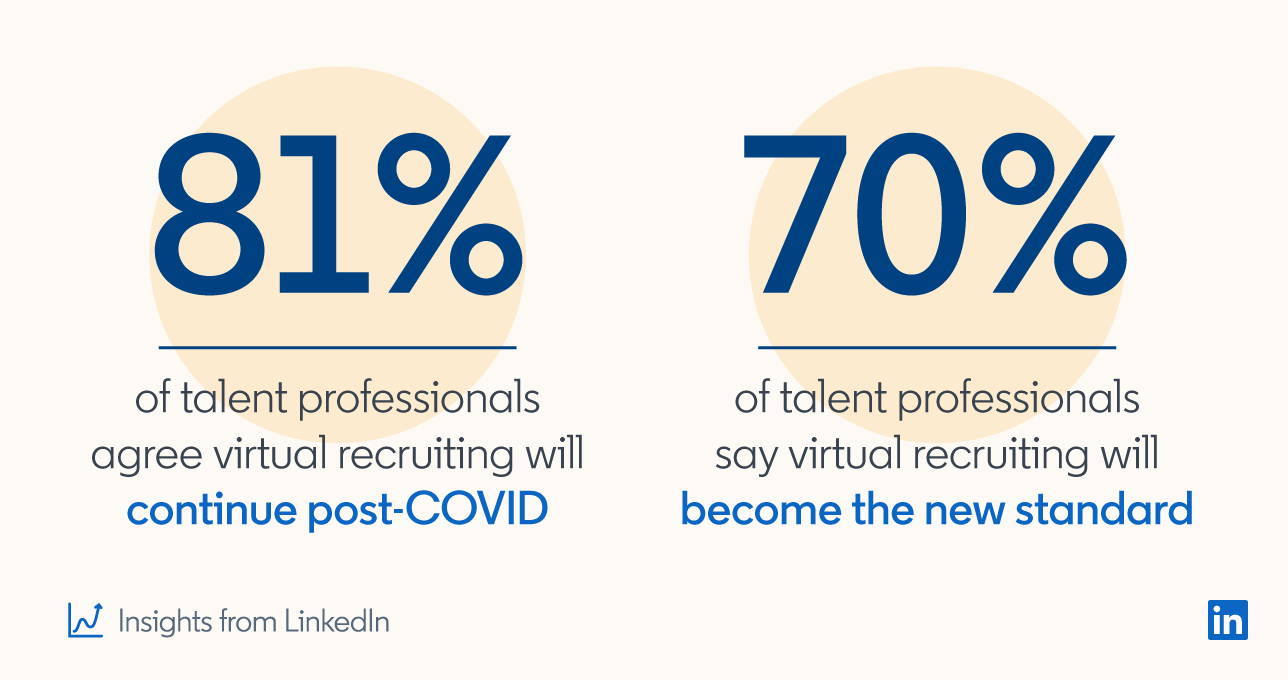 2021 Recruiting Takeaways
Among other trends highlighted in their report, LinkedIn predicts:

Recruiters will lead the transition to remote work, with 69% of those surveyed saying that workplace planning is becoming an important aspect of their roles
Recruiting will keep the business accountable on diversity, with 77% of TA profesionals surveyed stating that diversity is very important to the future of recruiting
The top skill recruiters said they need for the next year is adaptability
Experts we spoke with on the future of recruiting for 2021 had similar predictions, and they note that these trends will have impacts beyond recruiting and TA.

"The workforce is now more nimble, agile, flexible, and dynamic than ever before. Shifting in and out of different phases of business restrictions, working remotely, and schedule flexibility have shaped both expectations and strategy for how work can be accomplished."
"Talent acquisition will need to understand and incorporate this into their employment branding, recruitment processes, and strategy to positively impact the hiring success and retention for their organizations," said Brian White, Executive Director of Human Resources & Operations, Auburn-Washburn Unified School District 437, a CandE award-winning organization.
Want to learn more about hybrid recruiting?
Stay in the Loop. Join 10,000+ Talent Acquisition Leaders