Healthcare talent is extremely busy; they work long hours, their free time is limited, and they have to be physically present at their workplaces to perform critical –and oftentimes life saving– functions. That's why you need to make it incredibly easy, convenient, and frictionless to have an initial conversation with your team.
What Candidates Want Vs. What Employers Give
The reduced efficacy of in-person hiring events after the pandemic comes as little to no surprise when you consider modern candidates' preferences and perspectives on virtual hiring events during the recruitment process. In a separate survey of 302 Brazen virtual event attendees in 2022, 98% of candidates said they are as likely or even more likely to pursue a job opportunity when there is the option to join a virtual event as the first step in the process. And almost all respondents claimed that attending a Brazen virtual hiring event made them as likely or more likely to take next steps for a job that interested them. So after more and more candidates were exposed to the convenience and flexibility of virtual recruiting processes during the Covid-19 pandemic, there were even fewer that wanted to go back to the way things were, in which interview conditions revolved around the preferences of the employer, not the candidate.
The reality of changing sentiments during the current candidates' job market was corroborated by top healthcare hiring professionals like Cathy Henesey, VP of Talent Acquisition at AdventHealth during our latest guest speaker webinar titled "Healthcare Recruiting and Candidate Attraction Tips and Tricks" (watch a clip below or click here to watch the full conversation on demand):
"I've been in healthcare for over 12 years now. We started using Brazen long before Covid hit, and in the Chicago and Orlando areas it was a genius move to not require people to join a hiring event in-person, because it takes at least an hour to get anywhere. That's how we promoted virtual recruiting both then and now: 'skip the traffic, skip the snowstorm, and the icy roads and talk to someone live before ever having to fill an application'. Nurses in particular were very happy to jump online and talk with somebody virtually."
With competition for healthcare talent heating up and qualified staff in short supply, savvy recruiters are taking active steps to make their application processes easier and faster to complete by removing as many obstacles to entry as possible, including doing away with the traditional application form as a first step altogether in favor of face-to-face interactions with future peers and managers.
As Henesey advised during the webinar, "get candidates into your funnel FIRST, then have them fill out an application LATER. It's all about capturing that initial attraction and reducing as many friction points as you can along the way".
Virtual Events and Hiring Platforms Pave the Way for Smoother, Faster Hiring
Hosting a virtual hiring event is incredibly easy with Brazen, and attendees agree that it is one of the simplest platforms to use, even with no prior experience with online recruiting technology in the past.
And that ease-of-use is key in healthcare hiring today. Organizations need to go above and beyond traditional recruiting practices to get the attention of prospective employees (both active and passive) in this competitive recruiting landscape, because without it, their hiring process has ended before it has even begun.
Using Brazen makes it simple to show qualified candidates that you're worthy of their limited time and actively invest in resources that make their lives easier, better positioning you to make your case about why your benefits, culture, and working conditions are far above the rest, leading the way for a winning candidate experience that will result in better, long-term hires.
To hear more insights from the 2022 Healthcare Recruiting and Candidate Attraction Tips and Tricks webinar, click here to watch the on-demand recording now.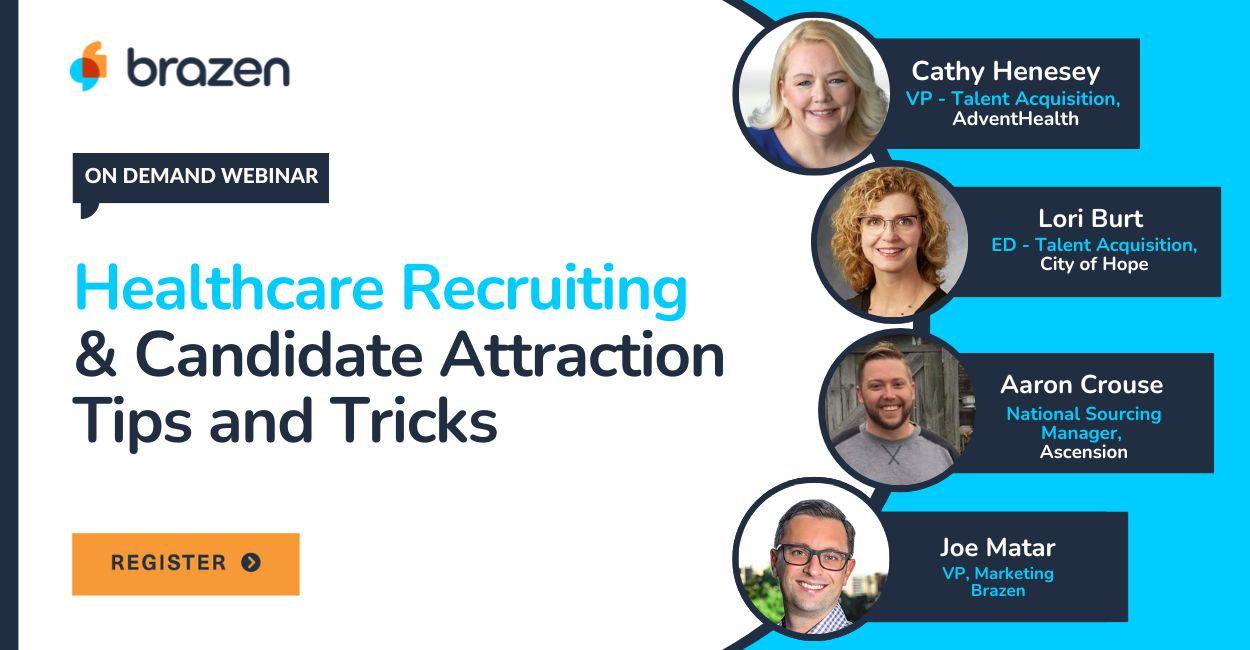 Like this post? Try these!
Stay in the Loop. Join 10,000+ Talent Acquisition Leaders