If the last two years have taught us anything, it's that remote work is far more sustainable than anyone could have predicted before 2020. Better yet, modern technology has shown us that remote work is not only possible, but actually empowering for many groups of people in the workforce today. This is especially true for professionals with disabilities (including veterans), who now have access to a wider array of virtual accommodations and communication tools than ever before, opening doors to interviews and job opportunities that were formerly just out of reach.
Via the Brazen Opportunity Fund, Brazen is proud to support and further these advancements in accessibility through our relationship with Lime Connect, a global non-profit that has championed job seekers with disabilities for decades, in our mutual search to make the world a more equitable and inclusive space. As Susan Lang, Lime Connect President and CEO states, "Lime Connect places high value on contracting with vendors who demonstrate a clear commitment to people with disabilities, and Brazen was one of them".
Brazen Spotlight: Lime Connect
Lime Connect is the world's largest network of high-potential university students and professionals who have visible or non-visible disabilities. Through its year-round programming of networking and hiring events, this non-profit seeks to rebrand disability through achievement, highlight the strengths individuals with disabilities bring to the modern workplace, and connect qualified applicants with job opportunities within the world's leading corporations. Top partner employers include Microsoft, Sony, and Google, which offer internships, scholarships, and full-time careers to Lime Connect's network of talented members.
When Lime Connect staff members were evaluating different virtual event solutions, they wanted to make sure they picked the most flexible and versatile platform in the market to cater to the spectrum of needs of its members. "Body language and non-verbal cues can only be interpreted through video, so having that integrated video technology was important to us for all our members. And people who stutter may feel more comfortable using text chat instead of video. Because it was usable by people with a wide variety of disabilities, Brazen was the most accessible platform we came across in our research, so we contracted with them to help us host our events in the virtual space," said Evelyn Cooke, Lime Connect Marketing and Communications Manager.
To read the full case study, click here or on the image below.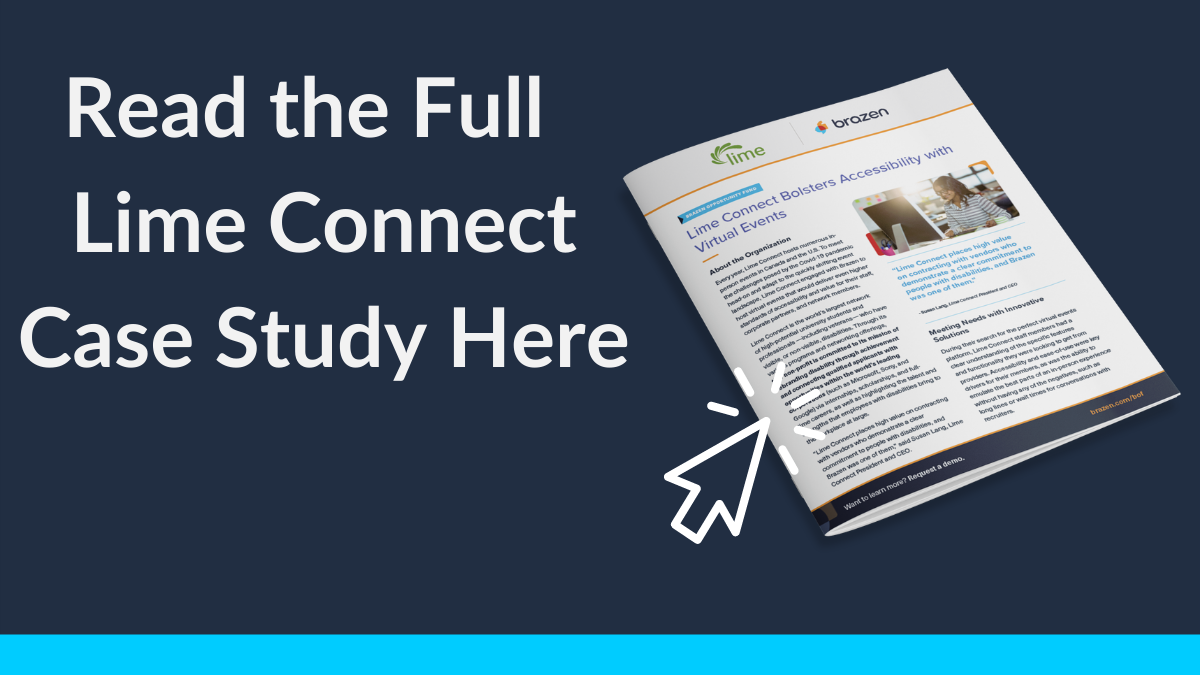 About the Brazen Opportunity Fund
The Brazen Opportunity Fund, sponsored by Brazen, grants the need-based use of the Brazen platform to organizations and employers committed to furthering diversity, equity, and inclusion. Within the first year, the Fund partnered with 18 organizations to generate over 13,000 chats amongst 3,000 candidates and 250 employers from sponsored events.
To learn more about the fund, click here.

Like this post? Try these!

Stay in the Loop. Join 10,000+ Talent Acquisition Leaders