Across industries, it seems that hiring has never been so challenging as it is today. With increased competition for candidates across industries and millions of unfilled jobs in the U.S. alone, employers everywhere are looking for solutions to help them to survive (and thrive) in this volatile employment market. However, in collaboration with Brazen, one such employer found great success with virtual hiring events, and this is their story.
Watch our recorded webinar with Carolyn Attar, Senior Talent Acquisition Manager for Stores and Marketing and Charlotte Nichols, Talent Acquisition Manager for Merchandising and University for the Neiman Marcus Group as they walk us through the successful virtual event strategies they've used to hit their hiring goals and deliver exceptional candidate experiences across the nation.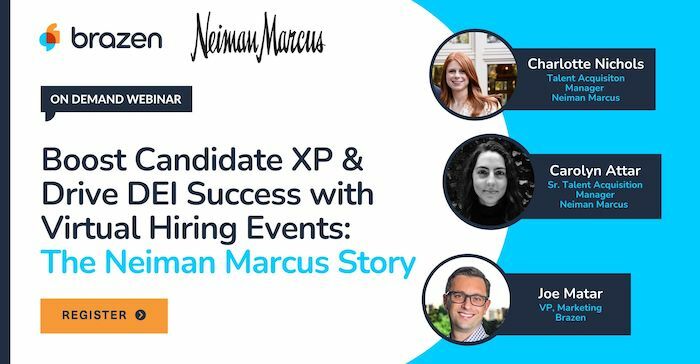 Webinar Highlights
View our on-demand recording of the webinar now to:
Learn how Neiman Marcus built and executed a virtual hiring strategy to quickly fill a large number of seasonal roles
See how virtual recruiting also helped drive innovation across Neiman Marcus' national recruiting strategy
Find out how they drove successful DEIB programs with the help of virtual events
Observe what an effective hybrid recruiting approach looks like in practice
Gain access to insights from Brazen's research with the Talent Board and understand the top challenges TA experts experience in the recruiting space today
To watch or share the recorded webinar, click here.
What Were the Initial Challenges?
Neiman Marcus is a company with recurring hiring needs for their retail stores and for operational roles across the nation. Their first event program strategy was tasked to find and hire 300 sales associates roles in only 3 months, which was no easy task in the middle of a pandemic and a candidate-focused talent market. Other objectives included following through with seasonal hiring strategies intended to help the business recruit enough workers over the busy holiday season, as well as attracting talent to their pipeline for in-person and remote roles throughout the company.
In their search to innovate, transform, and evolve their approach to sourcing, attracting, and engaging talent, Neiman Marcus teamed up with Brazen to put their strategy to the test with the aid of virtual events. The result? Within a single 3-hour event they were able to interview over 400 people nationally, reaching new milestones in their hiring processes.
In What Other Ways has Neiman Marcus Used Virtual Events?
In the past, the Neiman Marcus TA team had limited resources with which to contact and engage with university students throughout the entire country. But with Brazen, multiple virtual events have already been hosted in which students from California, Texas, and NYC have been able to attend at the same time, resulting in efficiencies across the board for Neiman Marcus' growing hiring team.
In addition to that, virtual events are also being used to recruit for their Executive Development Program, providing a valuable resource through which to teach students about the organization's vision via one-on-one conversations, even when they haven't applied for specific roles yet. Helping both active and passive candidates navigate and plan their own career paths through Neiman Marcus has been an effective way to sustain their employment pipelines, showing promising results for both the short and long-term efforts.
Lastly, virtual events have also proven to be a great way to find and engage diverse talent. Since they can be hosted in collaboration with other organizations representing new or underutilized candidate pools –and are significantly more accessible than in-person only hiring events– they have opened the door to many new opportunities for the company, inexorably shaping the way Neiman Marcus conducts its hiring to overcome today's and tomorrow's emerging recruiting challenges.
Want to learn more? Then watch the recorded webinar on-demand.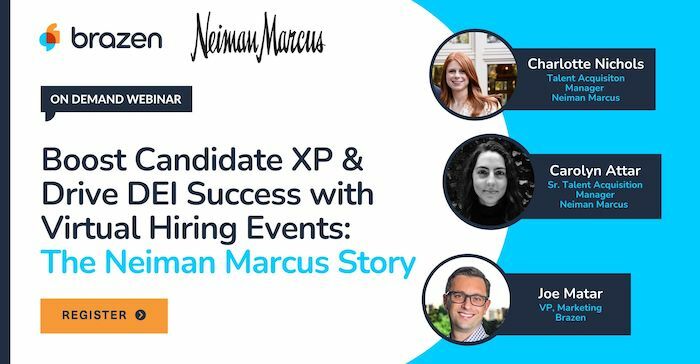 Like this post? Try these!

Stay in the Loop. Join 10,000+ Talent Acquisition Leaders