We've gathered up a handful of examples to show you how top employers are expanding the reach of their virtual recruiting events and attracting top candidates in their respective fields.

There are lots of effective tactics for promoting virtual career fairs and online chat events. Organizations that are grabbing the attention of top talent typically use a combination of techniques to promote their events, but there are a few tactics that work exceptionally well for our clients that any TA team can adopt.
Before we dive into the specific example, there is one universal best practice for promoting virtual recruiting events. And here it is. All organizations should post all virtual recruiting events on their main careers site. You're probably spending a lot of time and energy driving traffic back to your careers site through other promotion channels (such as social media and email campaigns), and you want to make the most of that traffic. Listing virtual hiring events on your careers site, either on the main page or on their own subpage, is an easy way to get more mileage out of the effort you're already putting in.
Now that we're clear on that, read on to see how four top employers promote their virtual hiring events and how you can use their tactics to reach your ideal candidates. The first two examples illustrate how to promote virtual career fairs and online chat events on your careers site, and the following two examples show you how to promote your events on LinkedIn.
Example: #1: Sentara Healthcare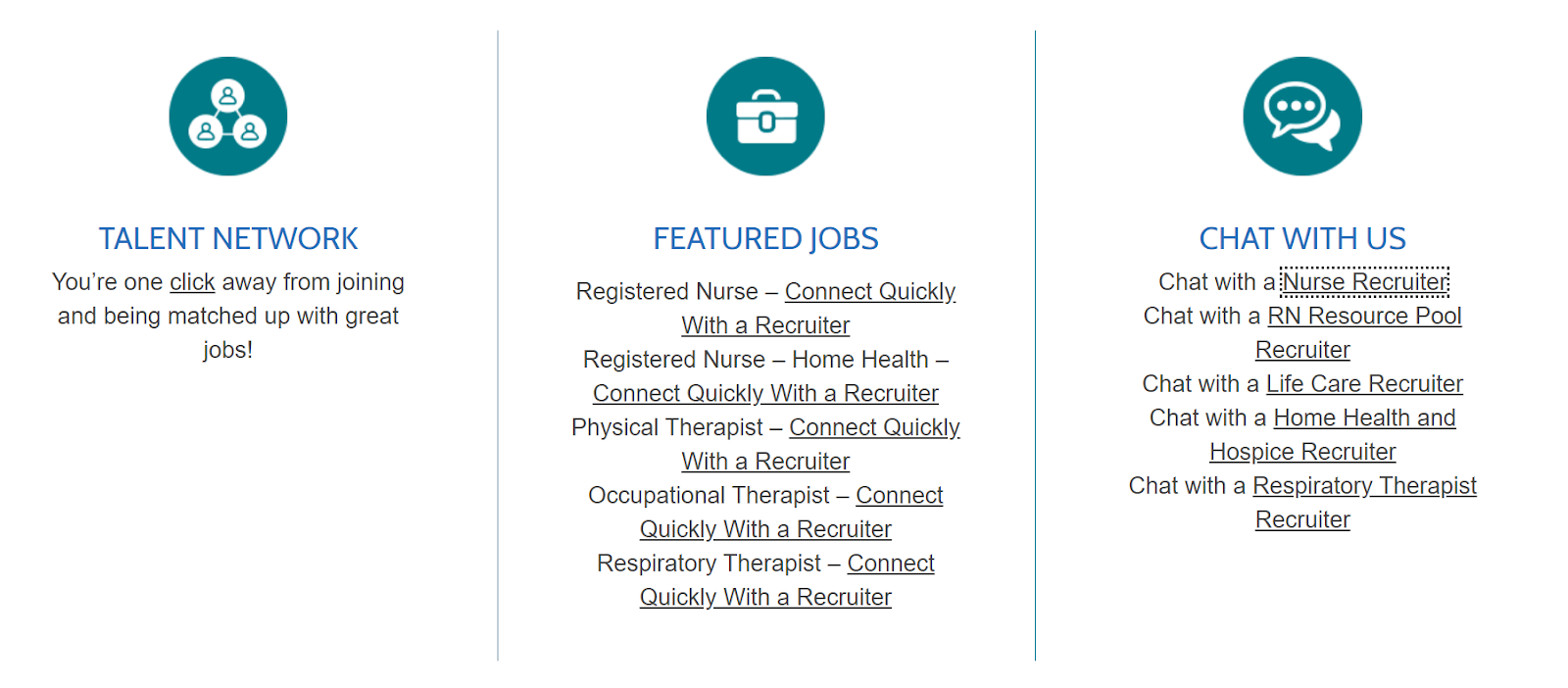 This healthcare organization has more than 300 sites in Virginia and North Carolina, so they are accustomed to high-volume recruiting, and finding novel ways to connect with talent. Sentara wisely promotes virtual chat events right on their careers site, as pictured above, in a few different ways. They offer easy access to recruiters via on-demand online chat during set office hours, so candidates can talk directly to a recruiter about the positions they are interested in. Sentara also invites candidates to join their talent network and connect with a recruiter for one of several featured job listings.
Example #2: Ascension

This faith-based healthcare organization operates care facilities in 20 states and the District of Columbia, carrying forward a legacy started by sponsor organizations 800 years ago. Their promotion strategy is direct and clear, making it ultra simple for job seekers to explore and connect. Their careers site is a great example, with a bright design full of white space. We applaud their choice to place a video at the top of the landing page, alongside timely copy about their response to the pandemic. Hiring events are listed in chronological order and the location, date and time is clearly displayed, with an eye-catching "learn more and register" button.
Promoting virtual hiring events on social media outlets should be a no brainer and LinkedIn is perhaps the most popular outlet for recruiting posts. All hiring organizations should promote virtual recruiting events on their company's LinkedIn page, at minimum. Recruiters and talent acquisition leaders should also promote those posts for more exposure, especially if your audience has been cultivated to include job seekers.
Example #3: Ochsner Health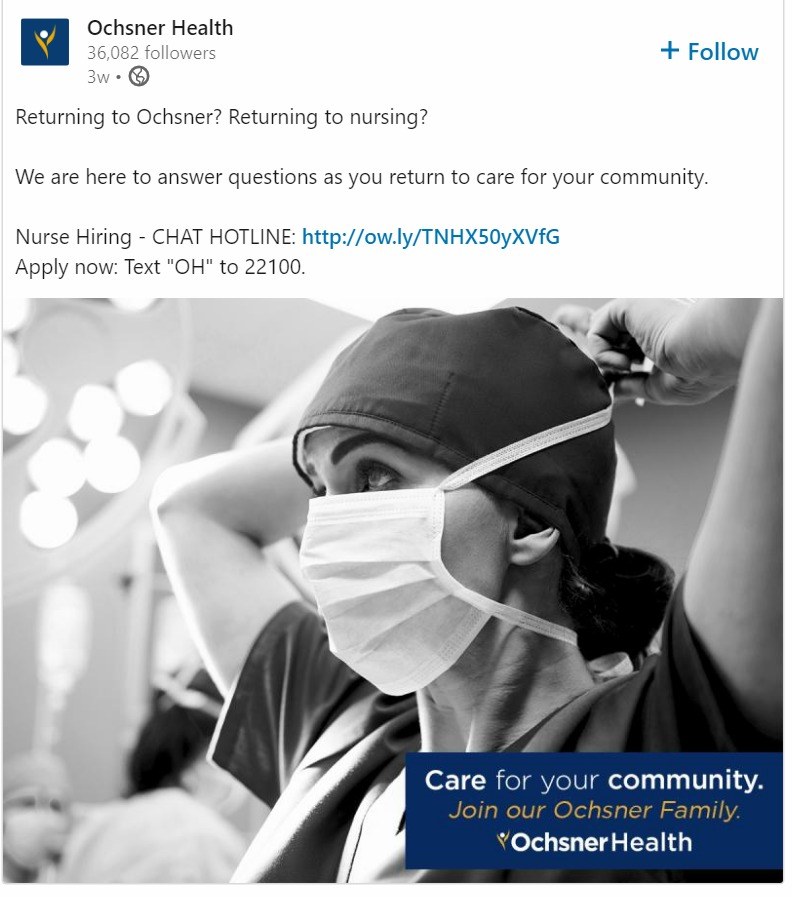 Louisiana's largest nonprofit healthcare system operates 40 hospitals and more than 100 other healthcare facilities. They understand the importance of simplicity and clarity in promoting virtual recruiting events. In this LinkedIn post example, they chose a simple approach with a large eye-catching image. Ochsner offers candidates multiple channels to connect, both via chat and apply via text, so job seekers can choose what works best for them.
Example #4: Leido's Defense Group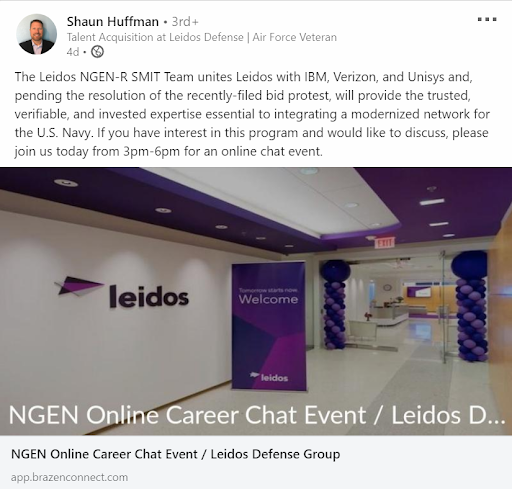 Leidos employs thousands of security professionals who manage a global network with more than three million users. Their target candidates pay attention to the company's upcoming projects and their TA leaders understand this. Promoting virtual hiring events often includes background information that gives job seekers more context about the positions they are hiring for. Their post also includes a set date and time frame for chat event, along with a direct link to make it easy for candidates to join in.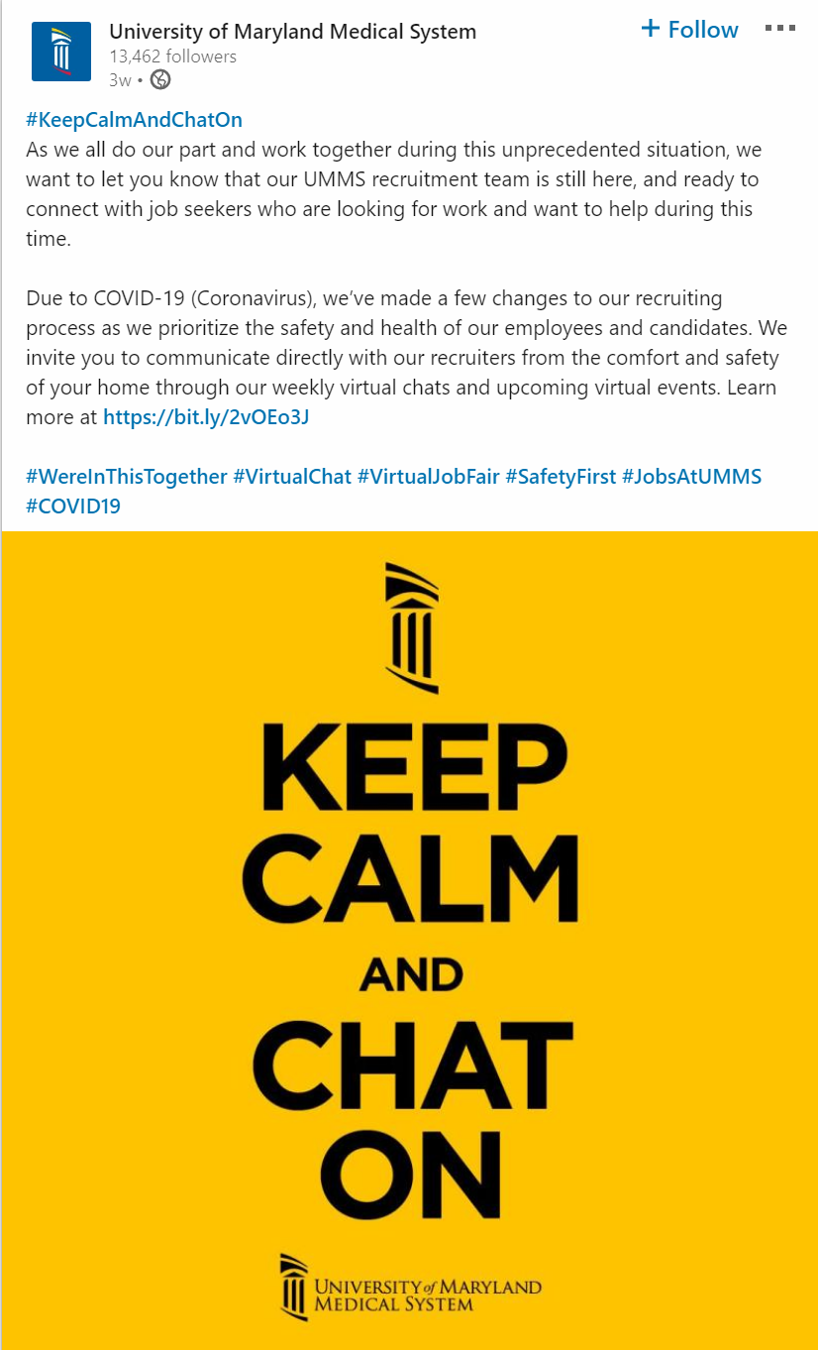 The University of Maryland Medical System
UMMS is one of the largest private employers in the state, with 25,000 employees and 4,000 physicians. Their talent acquisition team regularly promotes recruitment efforts on the company's LinkedIn page and, in light of the pandemic, they've chosen to create a branded hashtag #KeepCalmAndChatOn to promote their virtual chat events. As they've pivoted to virtual recruiting, UMMS is offering weekly virtual chats and multiple virtual hiring events so candidates can connect on their schedule.
These are just a few examples of how employers are promoting virtual hiring events in effective and engaging ways. What aspects of these examples can you put to work for your promotion strategy? These tactics work best when combined with other methods for promoting your virtual career fairs and online chat events, including other communication channels like email, text messaging and through your recruiting chatbot.
P.S. Can we send you an email with our awesome talent acquisition content every week or so?
We won't overwhelm you and we'll make it easy for you to unsubscribe if you ever choose to do so.