While browsing through the job reqs on your company's careers page, job seekers are often thinking, "What's the work environment like at this company?", "Who will I be working with?", and "If I want to occasionally work from home, will I be able to?". Job seekers have to decide whether to apply or not, even if they don't know the answers to some of their basic questions. And for many job seekers, without answers to these crucial questions, embarking on filling out a cumbersome application isn't worth their time. That's why Brazen developed QuickChat!
QuickChat helps you engage with top talent that are not ready to apply, but are interested in chatting with a recruiter to learn more. This alleviates the frustration with the application process, and reduces the high costs associated with page abandonment in cost-per-click recruiting models. Additionally, job seekers who engage with Brazen's QuickChat are of the highest quality. In fact, Brazen customers see a 10-20% chat-to-hire rate when using QuickChat.
Converse with Quality Candidates Everywhere
Brazen's game-changing QuickChat lets you chat anywhere, any time, with top talent. QuickChat is a feature of BrazenBot, and it lives on job pages or even on your homepage, allowing interested job seekers to chat directly with recruiters. Your recruiting team can use the Brazen-powered landing pages to offer a "chat anywhere" option. Add it to email signatures, Linkedin profiles, or even create a marketing campaign aimed at the "silver medalists" who are already in your pipeline to invite them to chat about roles they may be a good fit for.

Have Jobs with Greater Demand than Supply?
You can apply QuickChat to specific positions that require high-touch engagement using customizable job rules which pre-screen candidates before they connect with your team using qualifying "knockout" questions. Brazen's proprietary technology assigns your recruiters to their open job requisitions and automatically funnels their conversations, ensuring the right recruiter speaks with top candidates.
Chat with Candidates on Your Own Time
You don't have to respond to chats immediately. In fact, 87% of chats happen asynchronously. When someone on your team is available, conversations with pre-qualified candidates take place immediately. Candidates have the option to shift conversations to SMS, QuickChat is fully mobile-optimized, giving candidates and recruiters the ability to engage on their own terms. Open up the line of communication with top talent, so you can immediately communicate in a faster, more personalized format than a scheduled event or an application would allow.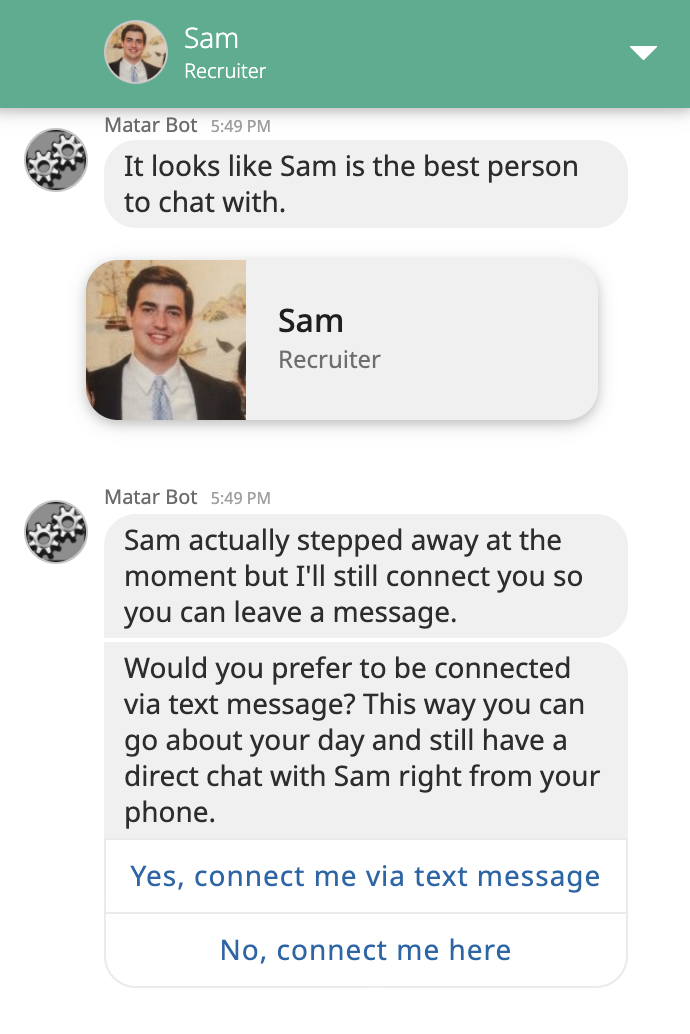 Foster Continued Candidate Engagement
Pair QuickChat with Brazen's best-in-class FAQ Concierge, which automatically provides your candidates with responses to their frequently asked questions, saving your recruiting team valuable time. And the best part is that our FAQ Concierge is the only chatbot that can offer your candidate's responses in text and video! The FAQ Concierge keeps candidates that may not be ready to apply on your jobs site engaging with your employer brand. The more time a candidate spends engaging with your organization, the higher the likelihood that they will convert further down the funnel. The FAQ Concierge gives you the data to continuously improve the user experience and discover what is of most interest to candidates. Leverage this data to create more accurate chatbot replies, timely events, better job descriptions, and so much more.

Easily Track Your Conversations
Brazen's dashboard is your hub for tracking all conversations and analyzing key metrics, including qualified leads and candidate quality. Rest assured that candidate information can be automatically pushed into your preferred CRM or ATS platform.
Discover how Brazen's QuickChat is taking talent acquisition to the next level. Click here to learn more.