What are the top challenges in healthcare recruiting right now, and which solutions are working to help healthcare providers meet their hiring goals amidst the current competition for talent? We answer all that and more in our new State of Healthcare Recruiting Report, available to download now on demand.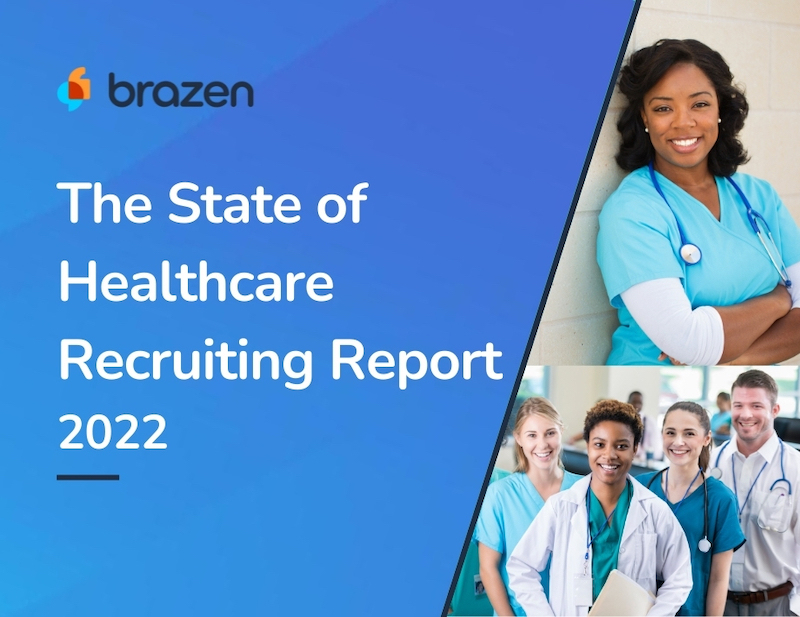 Inside, you'll find out everything you wanted to know about the most up-to-date trends influencing the healthcare industry today and the strategies and technology that are being implemented to engage candidates, achieve better hires, retain employees, and deliver higher standards of care during the global hiring crisis and national healthcare professional shortage.
These insights are based on a 2022 survey Brazen conducted of 88 healthcare Talent Acquisition professionals ranging from TA Specialists to Directors and C-Suite executives working in recruiting within healthcare facilities of varying sizes.
Top Finding: Talent Attraction is the Biggest Post-Pandemic Hiring Challenge
Did you know that the strongest pain point for healthcare recruiters is talent attraction? It's true: with limited talent pools of trained medical and non-medical professionals to choose from for a host of time-critical openings, every medical organization is trying its best to get the attention of active and passive candidates in a myriad of ways, and competition is fierce.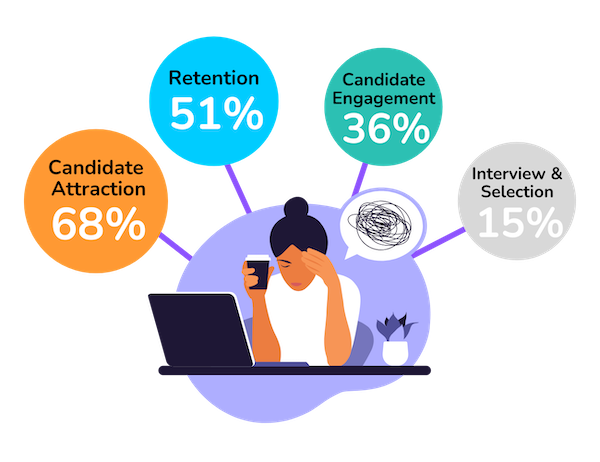 Healthcare leaders and successful recruiters agree that adding talent to the pipeline is critical to their hiring process, which is why an increasing number of healthcare organizations have been investing more money on bigger salaries, competitive benefits for employees, and TA technologies, among other strategies to attract and retain staff members for critical healthcare jobs.
In fact, employers that actively use the Brazen virtual event platform reported that the three biggest benefits of virtual hiring events were 1) adding more candidates to the pipeline (38%) and 2) increasing candidate quality (22%) , and 3) engaging passive candidates (18%), all vital parts of an effective hiring strategy for healthcare roles amid a nationwide talent shortage in which over half of non-clinical and clinical talent pipeline is composed of passive candidates (i.e. professionals already employed by other healthcare organizations).
TOP FINDING: Healthcare Candidates Want Virtual Recruiting Options
Healthcare candidates are some of the busiest out of any industry, so it's no wonder that virtual recruiting technologies are very popular within this talent group. Online hiring events allow potential employees in the healthcare sector to join from anywhere, using their personal devices, and don't require them to take time off to attend an in-person interview. Not only that, but virtual hiring events make the recruitment and job search process simple, accessible, and flexible for a wide variety of potential candidates, allowing them to engage with prospective employers on their own terms.
The data also confirms that it's the key to successful recruitment: in a separate 2022 survey of Brazen virtual event attendees, 98% of candidates said they are as likely or more likely to pursue a job opportunity when there is the option to join a virtual event as the first step in the interview process. Results also revealed that 97% of candidates attending a virtual hiring event hosted on Brazen said they are as likely or more likely to take next steps for a job that interested them. And almost all candidates that attended a Brazen virtual event would do so again in the future, so it's safe to say that virtual hiring events aren't just a big attractor for potential employees right now, but will quickly become the status quo moving forward.
TOP FINDING: A World-Class Patient Experience Starts with a World-Class Candidate Experience
As medical service providers, the quality of care delivered to patients every day is contingent on an organization's own healthcare employees, their training, soft skills, and their commitment to its cause, which is why it's so important to hire the right people. But if your candidate experience isn't designed to delight candidates and cater to the best-qualified applicants, then they will abandon it in favor of another that does.
So what strategies are other healthcare organizations and healthcare recruiters implementing in their recruitment process to offer a candidate experience that stands out from the rest?
Read more about it in The State of Healthcare Recruiting Report, available to download on demand now.

Like this post? Try these!

Stay in the Loop. Join 10,000+ Talent Acquisition Leaders