The Control Freak's Guide to Getting Work Done
Since the very first day I became "unemployed" and started working for myself, many people have asked me how I'm able to be so productive without having a boss look over my shoulder all the time. My secret? I am a control freak. I may be not the most inspirational writer and I envy bloggers who make creativity look effortless, but I do get a ton of stuff done. Being a control freak is something I've owned since I was born. When in school, I had all my homework done one week in advance. So if you're wanting to be more productive, can you learn to be a control freak? Honestly, I am not sure! But you can certainly adopt a few signature control freak characteristics. Here are a few of my most successful tips for getting things done:
1. Plan your week
Being a solo web entrepreneur means you don't have a schedule... or a weekend. You can work whenever you want. Or avoid it whenever you want. But you need a strict schedule to get organized. So you have to plan your week accordingly. Here's my very simple schedule:
Monday: Too much mail. I hardly have time doing anything except checking and answering emails, following up with my Twitter followers and Facebook friends and catch up with the latest news.
Tuesday: It's getting somewhat quieter. I can afford the time to get some client work done.
Wednesday: Mid of the week is highly productive. I do all my client work I have. Besides, I have time to work on one of my own projects (send assignments to my development team, do a blogger outreach for our new features or events, write a blog post for my personal blog, etc.).
Thursday and Friday: End of the week is highly creative. This is when I write (guest) posts, brainstorm new client campaigns, make notes for my further posts, etc
Weekend: Lots of rest and reading while still brainstorming content ideas for future articles, structuring my knowledge, etc.
2. Plan each day
My to-do list is what keeps me sane. It helps me almost always know what I am going to do and when. Here are a few tips on how I create and manage a good daily to-do list:
1. Keep the first part of the day mostly free (this is when I am checking and answering my emails, social media messages, etc);
2. Never interrupt your work without creating a new to-do. Besides being a solo entrepreneur, I am also a mom. My kid always wants my attention but even if I have to interrupt my usual working process, I always create a quick to-do list before closing the laptop. Otherwise I'll forget where I stopped!
3. You don't need any fancy software: Most to-do list tools are so feature-rich that more time will be spent (figuring it) than saved. For my to-do lists I use pen and paper, a simple .txt file or a whiteboard.
4. Create a new to-do list daily! This is why this almost perfect tool never worked for me. I know that many people really enjoy crossing the tasks off their to-do lists and adding new ones right there (this makes them feel the mission is somewhat accomplished). However I like arranging tasks on a new to-do list daily and having a new, clean list each time.
Here's one of my actual to-do lists: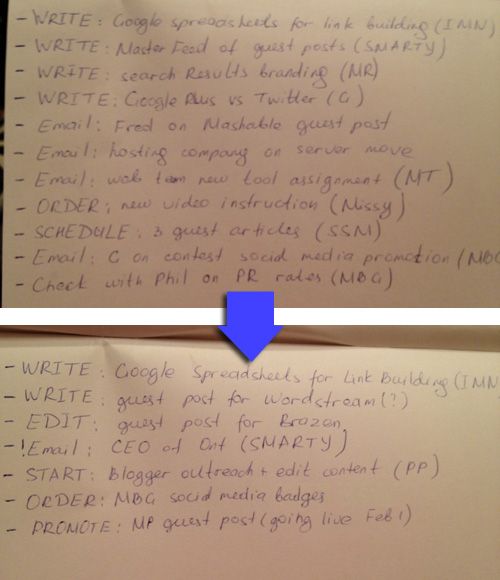 As you can see, I don't manage to do everything within one day. I do just a bit, then a new list gets new tasks and new priorities! This keeps me extremely focused! A few other tricks I am using for my to-do list (as seen above):
Using active verbs that call to action: This keeps me more motivated.
Omitting tasks I do daily: Routine tasks (like checking email) won't go into my TO-DO list not to clutter it with something I won't forget to do anyway.
3. Don't multi-task
As absolutely incredible as it may sound nowadays: if you really need something done, don't try to multi-task! I know the feeling: you've hardly even started doing anything and there is a flood of Skype messages, Twitter DMs and new emails popping up in all the screen corners. But you need to go ahead and switch everything or off. The social media world will do without you for an hour or so. Just get focused and you'll have the work done faster than ever!
4. Make commitments
Most of the work I do is 
optional
. For example, no one pays me for a guest post. No one is waiting for it. Therefore it is so easy to move the plan to write another guest post down to the bottom of my to-do list. So I 
make commitments
. With guest posting, if a blogger accepts one of my pitches, I always reply with the exact time frame when he/she can expect it. This way I feel 
responsible
 for getting the work done in time and forcing myself to do it. This simple tip can be applied to anything: client work, blogging, social media outreach, etc. Just keep all your work deadlined!
5. Get some rest
No matter how much work you have, find some time for a real rest. I am lucky: I have my family and I always wanted to spend some time with them. It's a good time to switch off to get inspired for a new working week.
Ann Smarty is a web entrepreneur and founder of My Blog Guest, the free platform that matches guest authors with blog owners. MyBlogGuest.com preaches the high-quality approach to guest blogging. Follow Ann on Twitter @seosmarty.