It's true: teacher shortages are now the norm, and public school districts as well as private school districts alike are feeling the pinch. Still, there's no need to panic! By taking the time to understand their mindsets as qualified applicants and employees in this fast-moving job market, you'll be able to create more effective attraction and retention strategies designed to give you a leg up over the competition and keep engaged teachers in your schools and academic institutions for much longer.
So let's jump right in and explore some of the realities around hiring teachers today, and the secrets to winning over this highly sought-after group of talented candidates (spoiler alert: it's not always about higher salaries!).
1. Teachers Have More Choices
The education industry isn't immune to the effects of the Great Resignation, as a significant number of prospective teachers, educators, and support staff are leaving the profession for opportunities at other schools or institutions. The teaching workforce is also very attractive to recruiters and companies in wholly different industries, giving qualified teachers ample opportunities to make big changes. The effects of this abundance of choice are felt across the hiring cycle, from candidate ghosting experienced at the very beginning of the hiring and onboarding process to retention issues affecting the very bottom of the recruitment funnel.

So how do you convey to your future teachers that they're making the right choice by joining you and actually sticking with your organization? By effectively engaging with potential candidates (as well as existing excellent teachers, let's not forget them!) on the communication channels they typically use. Openly advertise your roles in your community and online to reach teachers both within and outside your region. Discover better methods of communicating how you're unique and laser-focus on the things that really make your academic institution stand out from the rest. If you offer teacher preparation programs or facilitate obtaining teaching certifications, make sure everyone knows about it. You can also cut down traditional barriers to entry to a career in education by streamlining your application and retention process with new H.R. technology such as through virtual hiring events and virtual engagement events. The sky's the limit in terms of how you can make sure you're perceived as a choice employer, so be sure to communicate those ideas properly in your teacher recruitment and retention activities.


2. They Have Different Priorities
Yes, talented teachers and educators are moving towards "better" opportunities. But exactly what types of benefits are they gravitating towards in the first place? In a widespread labor phenomenon that Ben Eubanks from Lighthouse Research and Advisory calls the Great Reprioritization, all employees, both newbies and veteran teachers alike, are reconsidering what really matters to them in their working relationships and working towards achieving those goals.
So what are the top priorities for job seekers today? The answers may surprise you.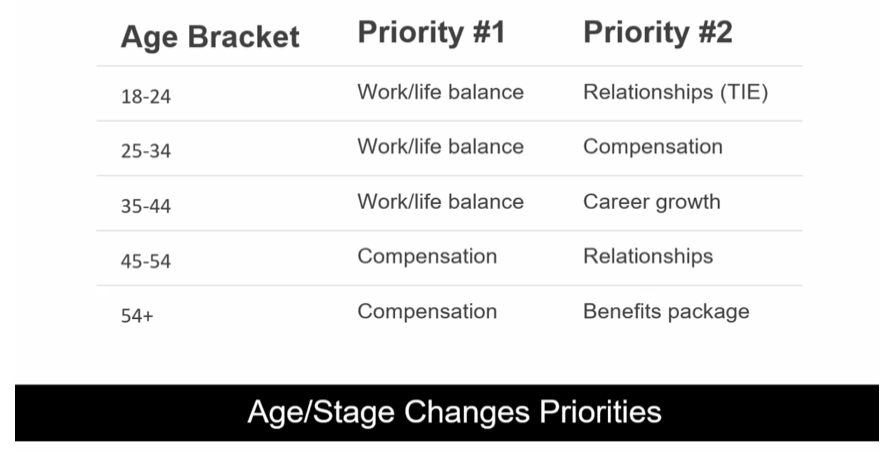 For candidates between the ages of 18 and 44, work-life balance ranks as the number one priority across the board, beating career growth and compensation. For younger candidates and future teachers between the ages of 18 and 24, that priority is closely followed by a focus on relationships, meaning that organizations that foster a balanced work environment that actively promotes a sense of belonging and well-being are better-positioned to not just attract early-career teachers, but to also keep them as time goes on. Older employees may be more concerned with compensation and benefits, so be sure to match (and hopefully exceed) their expectations when targeting educators in different age brackets. Which leads us to our next point...


3. All Teacher Candidates Want Transparency
As mentioned earlier, teacher salaries aren't the only determining factor in choosing and accepting a teaching position. Nonetheless, they're still pretty important. Lighthouse Research shows that the starting pay is the most important thing for candidates to know in the hiring process, so be honest and transparent about your rates and additional benefits in order to quickly qualify interested candidates and move them through the pipeline. You'll not only get better quality hires this way, but also lessen the burden on your hiring team by not having them do this manually in subsequent application process stages.
It's also a good idea to highlight your development opportunities from the start as well (i.e. in the job posting itself or on your careers website), since over 80% of candidates are eager to know more about educational opportunities, professional development, and career growth opportunities during an application process.
4. More Work Flexibility is Better
Since it's not always possible to give teachers remote working arrangements or virtual teaching options, we don't just mean flexibility regarding where teachers work. When we talk about flexibility, we mean giving teachers ample choices about how their work gets done, and giving them more autonomy to make these decisions for themselves. It's a powerful step that is tied to increased employee retention, and one that should not be ignored. By understanding what motivates potential teachers and how they prefer to learn, work, and teach, you can create a culture that will help you attract and retain the best teachers from the inside out.
Conclusion
If you're looking for ways to attract new teachers and keep current ones, then you should start by getting to know them better. From this information, you can work out what sort of role, benefits, or environment would appeal to them most so that you can tailor your approach accordingly. While it's clear that there are many factors at play when it comes to attracting excellent educators, if you want to have a successful recruitment and teacher retention strategy, you need to think outside the box and look beyond traditional teaching profession tactics, embracing the advantages hr tech solutions can give you both in the short and long term.


Like this post? Try these!

Stay in the Loop. Join 10,000+ Talent Acquisition Leaders