One of the biggest challenges in recruiting is expanding your talent pool, attracting new candidates, and building a more diverse pipeline. Employers can and should host virtual job fairs and practice recruitment marketing strategies to lure in fresh talent, but participating in recruiting events hosted by other organizations can expand your reach even further. It can be challenging to find recruiting events to attend that aren't already on your radar, especially if you want to break out of your local area.
Enter Brazen's new Upcoming Job Fair site, which allows employers to discover virtual events that match their target talent pool and connect with the event hosts. These connections open up opportunities for sponsorship and exhibitor booths, helping employers tap into new talent pools and connect with even more quality candidates.
Key Features
All of the virtual job fairs listed on the site are hosted on the Brazen platform by Brazen clients. The search tool is free for employers to use, and it's also free for event hosts to list their upcoming job fairs. (If there are fees to sponsor or exhibit at a virtual recruiting event, those fees will be listed on the event page and are set by the event host.)
Searching the upcoming job fair tool is easy, and employers can select filters to narrow in on specific target talent pools by career level, special qualifications, industry, and more. This makes it simple to focus on campus recruiting, look for cleared candidates, or find events centered on diversity. Employers who want to explore more options can cast a wider net by using fewer filters to maximize search results.

Each event listing contains loads of details to help employers find the best match. This includes information about the event attendees (who they are and how many are expected), number of recruiters, cost to participate (if any), and types of booths/Brazen features being used for the event. Having access to all these details up front helps potential sponsors and exhibitors determine whether a particular event aligns with the type of candidate experience they want to participate in.
A simple on-screen contact form makes it quick and easy for employers to contact event hosts once they find an event that meets their needs. Employers receive a confirmation email once the form is submitted, and event hosts can respond directly to the inquiry to share more information, answer any questions, and determine whether the exhibitor is a match for their event.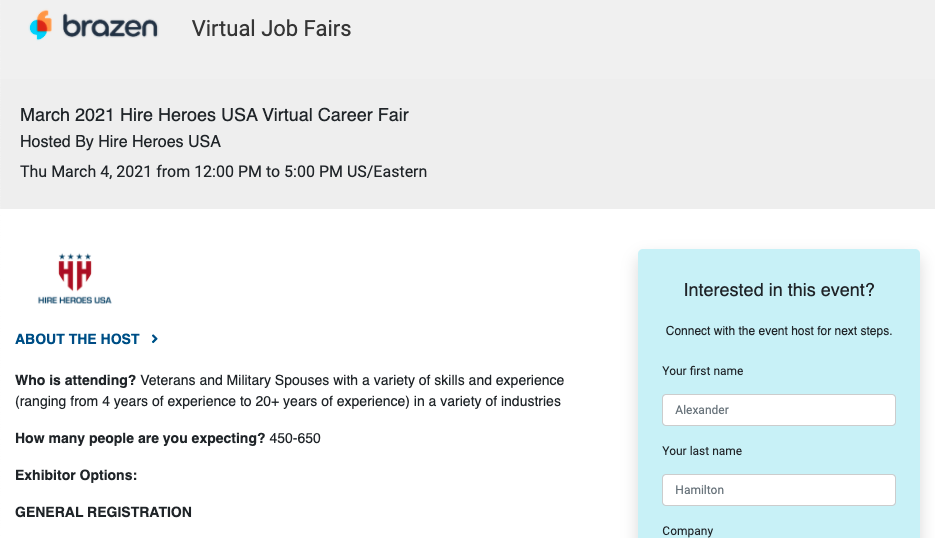 What to Look for in a Virtual Event
So, you want to become an exhibitor at another organization's virtual recruiting event. Your first step is to head to the Upcoming Job Fair site. What comes next varies depending on your unique circumstances, goals, and challenges. One big advantage that virtual events offer all employers is removing geographic limitations and connecting you with qualified candidates across the country.
How you design your Upcoming Job Fair search depends on your situation. Are you racing the clock to fill a specific role? Is your primary goal to build your talent pipeline for future hiring needs? Do you want to exhibit at other organizations' virtual recruiting events to improve diversity? Whatever your goals, perform a search with filters that match your ideal candidate persona(s). As you explore the search results, consider a range of event types. This is a good and inexpensive way to test new types of events, partner with different types of organizations, and test new markets.
Who Hosts the Events in the Brazen Upcoming Job Fair Site?
All virtual recruiting events in the search tool are hosted by Brazen clients on our platform, so it's a great way to become familiar with Brazen's features if you're considering becoming an event host in the future.
Searching the site will reveal events hosted by a wide range of organizations, such as colleges and universities, industry associations, workforce development and other government agencies, nonprofits, and any other Brazen client who wants to host a multi-employer virtual career fair. Brazen clients don't pay extra to have their recruiting events listed on the Upcoming Job Fair site, so this tool adds value by helping them plan more robust events and offer a better experience to their candidates.
If you're hosting a Brazen event and would like to get your event listed, click here.
Adding Dimension to Your Recruiting Strategies
Participating in virtual recruiting events hosted by other organizations is an easy way to take advantage of the benefits of virtual recruiting to maximize your reach. When used in conjunction with hosting your own virtual events, becoming a virtual job fair sponsor or exhibitor helps you tap into new talent pools and expand your talent community, making it easier to fill positions in the near term as well as down the line.
Brazen's Upcoming Job Fair tool is a good fit for employers who want to try out virtual recruiting events for the first time, or try new types of virtual events, or simply expand their reach. If you've never participated in a virtual job fair before, joining a Brazen event hosted by another organization is a great way to test the waters, and the platform is easy to use, even if you're not a tech wizard. If you're already hosting your own virtual recruiting events, or even just conducting virtual interviews online, becoming an exhibitor at someone else's event helps you strengthen your employer brand, expand your reach, and tap into talent pools that you may not otherwise have access to. In other words, this tool is for everyone who wants to hire top talent.
This new tool strips away obstacles, saves time and energy, and helps employers tap into the exciting revolution in virtual recruiting. In 2020, Brazen hosted 1 million conversations and 15,000 virtual recruiting events, which is an average of 60 events per work day. Image how attending some of these events can transform your recruiting results!
Learn More About Virtual Career Fairs
Stay in the Loop. Join 10,000+ Talent Acquisition Leaders