Table of Contents
Virtual career fair platforms are one of the most powerful tools for connecting employers and job seekers on the market today. Whether you are a company looking to host a virtual hiring event to find top talent, a University looking to connect your graduating students with employers, or an organization looking to host a multi-company virtual career fair, we've got you covered in our review of the best virtual career fair platforms of 2023.
What To Look For in a Virtual Career Fair Platform
The use of virtual career fair platforms has exploded, and today, there are a lot of online platforms to choose from. But it's important to keep in mind that what they provide to employers, candidates, and event managers all differs widely. When it comes to virtual career fair platforms, the options available vary greatly in terms of features and capabilities. The most reputable platforms out there are designed specifically for hosting virtual hiring events with hundreds of candidates within a matter of hours. Not all tools on the market offer the same level of convenience and scalability. Chances are, you've had a chance to participate in a virtual career fair in some capacity. But when it comes to choosing a platform for your organization, it can feel overwhelming to search for a solution that meets your needs. Here are some criteria to keep in mind as you learn about your options.
How much experience does this platform vendor have?
What kind of security protocols help protect user data?
How would the vendor respond to a data breach?
What specific services does this vendor offer?
What level of customer support is available?
What kind of training is offered prior to the virtual job fair?
What devices are supported for accessing the platform?
Does the platform support video live streaming?
What level of customization is offered?
Is there a custom registration form you can personalize for each event?
What are the tracking capabilities?
Do you get access to candidate data and resumes?
What are the reporting capabilities?
And more

Brazen is the most experienced vendor in the world of virtual career fairs and was rated the #1 virtual event management software by Capterra users. Unlike many other platforms, Brazen was built specifically with hiring events in mind, so it offers a wide range of capabilities specific to the task.
Founded in 2007, Brazen offers several a wide range of recruiting tools and features, including the leading career fair platform. With Brazen, organizations can easily connect with job seekers in a variety of ways, including both single-company virtual hiring events and multi-company virtual career fairs that equip hiring teams to easily rate their conversations with candidates and follow up with them, all from one platform.
Brazen offers a wide range of valuable recruiting tools, including video interviewing, live video broadcasts, video, audio, and text chat, customizable booths, and candidate chat scheduling; group video booths and networking lounges; customizable branding and registration forms; candidate communication tools, including chatbots, email, and automation features; event promotion tools and services; interactive tools including microsites and live chat built specifically for recruiting teams; native and custom API and third-party integrations as well as calendar integrations; robust tracking, analytics, and dashboards giving you real-time access to event performance data as well as candidate information; and, the ability to create templates and event series to save your team time and scale your hiring event strategy easily.
Teams can customize their event registration pages and include custom data fields on the online registration form, plus enable the ability to require attendees to meet minimum qualifications prior to full registration. Plus, users have the support of a customer success team as well as a user resource university and access to live support, a level of service many on this list do not provide. And, Brazen is easily accessible both from desktop and mobile devices, without the need to download extra apps.
Brazen also helps employers reach their desired target audience with sourcing solutions that go beyond simply advertising job openings on career sites. Our solution helps drive qualified candidates to your hiring events, so you can hire more top talent, faster.
A pioneer in the virtual hiring event platform space, Brazen now also powers in-person hiring events, so you can manage all your recruiting events from one place and centralize candidate ratings, data, and follow up across both virtual an in person events.
Brazen Reviews
Brazen is consistently recognized as a top vendor in the virtual event space by Capterra, G2, and Select Software, based on customer reviews, currently rated as the top virtual career fair and hiring platform. Brazen deeply understands the challenges of employers looking to hire qualified candidates in this virtual world or universities looking to help their graduating students find that next best career. Companies like Spectrum, CVS Health, Northrop Grumman, and Walgreens, and top Universities like USC, NYU, Temple, Carnegie Mellon, and a whole lot more host virtual career fairs regularly on Brazen's platform and users report that the tools are "very easy to use and user friendly."
In other reviews, users tout the cost and time savings in their hiring process.
"Our sourcers loved the ease of use for the tool and the ability to chat with multiple candidates at once, it not only made things much more efficient in the long run, but it saved them tremendous amounts of time by funneling in a large [number] of candidates for recruiters in a short amount of time." – G2 Crowd User
From "The registration, website integration and registration processes that come with Brazen far outpace its competition. The one-on-one scheduling is especially appreciated by our exhibitors, making our event all the more enticing for them vs. our competitors." – Denise D on Capterra

"Brazen allows us to build capacity in our recruitment function, increase our brand awareness and cut down on travel costs." – Quiana P on Capterra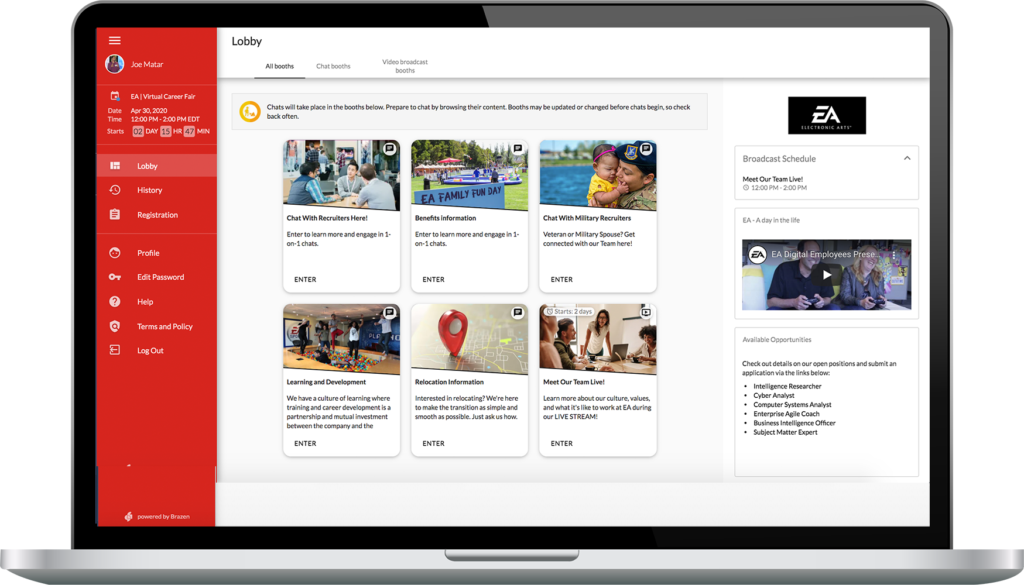 Brazen enables clients to set-up virtual career fairs at their chosen date and time, tailoring events to candidates with certain skillsets, job functions, industries, locations, and more, in order to hire the best talent and hit hiring goals. This flexible service makes it easy for recruiters to focus on their biggest sourcing challenges. For example, one reviewer on Capterra reports using Brazen's virtual career fairs to reach candidates with active security clearance to work in the Department of Defense space.
Other companies use Brazen to find candidates for management-level positions or warehouse and logistics staff. Employers promote online career fairs via social media and email lists, and recruiters can use the platform's communication tools to invite past applicants.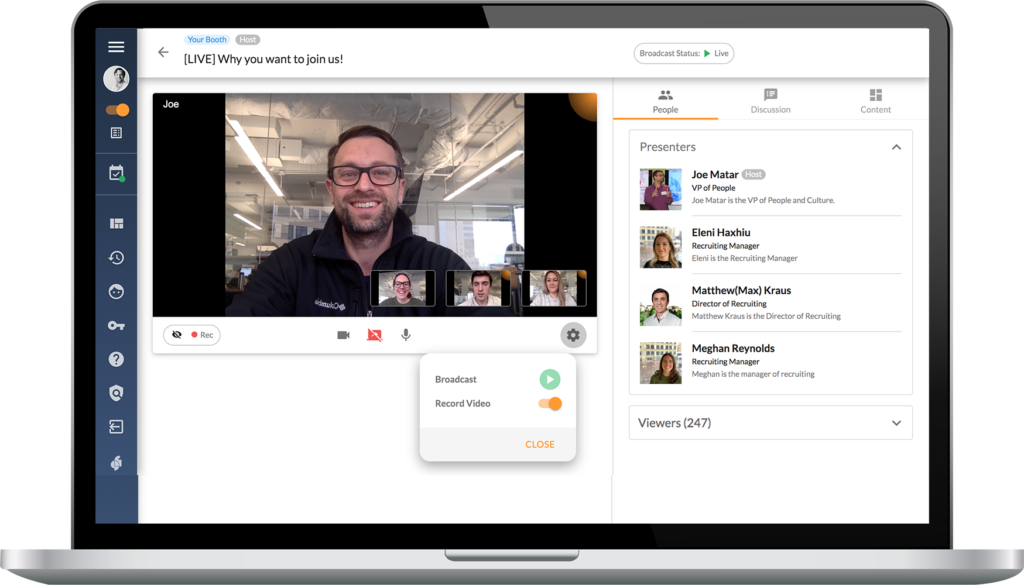 Brazen offers video interviewing and live video broadcasts right from its own platform. No external solutions or third-party tools are necessary, unlike a majority of other platforms.
With top-notch customer service and a constant push to innovate, Brazen is one of the best virtual career fair platforms available for recruitment teams.
Best for: Companies and organizations with 1,000 or more employees; organizations with high-volume hiring needs; colleges and universities; workforce development agencies; and professional or industry organizations.


Founded in 2019, this London-based company describes itself as a virtual venue for live online events. It falls short of being a conversational recruiting platform and lacks some of the advanced features of more established virtual event platforms, such as the ability to gain insights on guest profiles while in a chat or prioritize and queue attendees throughout an event. Hopin offers a variety of areas within a single event—the Reception, Stage, Sessions, Networking, and Expo area—each with the ability to host customized content. For some users, the experience can be overwhelming or confusing.
Hopin is a more general-purpose virtual event platform and is not built specifically for the hiring or recruiting process. Hopin may be used for a variety of events, including conferences, trade shows, and webinars. It offers features ranging from live streaming to chat, Q&A, and breakout rooms.
Hopin Reviews
According to one G2 user review: "the chat box function does not seem very useful when there are more than 20 participants because it gets over-flooded with comments," making meaningful conversations difficult.
Best for: Small businesses that are looking for a free option.
Handshake is built for connecting students and recent graduates to employers through its website. This vendor launched an online job fair platform in response to the pandemic, and their career fairs are designed to help student job seekers learn more about potential employers through group meetings and 1:1 chats. Handshake touts access to more than 10 million students and alumni. The platform has mostly positive user reviews, with criticisms centering around communication, ease of use, and visual appeal. If you are looking for a platform that is specifically designed for early-career professionals, Handshake is a good option; however, if you are looking for a platform that can be used by all levels of professionals, you may want to consider a platform that equips you to engage broader talent pools.
Handshake Reviews
As one G2 user writes, "you don't receive any email notification whenever someone schedules a meeting with you on Handshake. You have to manually check the calendar to see if anyone has booked a session with you, which can be cumbersome."

Users also noted the lack of customization with the platform, like this G2 review: "Get too many people applying for jobs who don't submit correct documents. No option to create a custom form to fill out, has to be attachments. Not a lot of options to customize posting appearance other than font color and size."
Best for: Entry-level recruiting and campus hiring

According to their website, they are a multi-functional software-as-a-service (SaaS) platform designed to bridge the gap between technology and human interaction. They mention that they work with employers and universities in industries including education, workforce development, healthcare, and the military. Premier Virtual does offer something many vendors on this list do not: a dedicated client success manager to help customers navigate the event setup process.
User reviews noted that this platform is not as customizable as many other options, so if you want to customize the look and feel, have more video options, or the ability to upload custom content such as videos, images, or documents, you may want to consider a different option. Reviewers also noted event analytics were limited and that the platform was not very user friendly.
Premier Virtual Reviews
"This worked great as a virtual platform for our needs at the time. The main reason we went with this platform is price. It is much cheaper than other competitors but doesn't offer as many features as the others. You can't completely customize your event's landing page. The chat functionality is a little clunky but works just fine. Not as many features as other platforms," according to a user on Capterra.
Best for: Small businesses in a variety of industries.

#5 Indeed

Indeed is a popular job search website that recently launched a virtual career fair platform for employers. While it offers a large user base of potential candidates to reach, and targets all levels of professionals, it offers limited features and lacks the ability to customize the platform to fit your specific needs. You cannot track the performance of your virtual career fair, and you will not get access to details such as a candidate's name, email address, and resume, until after the career fair, so you are limited in your ability to prepare your recruiting team or communicate with attendees prior to an event. In addition, while you can adjust a few registration questions, you cannot add custom fields as you can with more robust, purpose-built virtual career fair platforms.
While you can send email blasts to those registered for your event, you cannot send individual messages to candidates or leverage automation tools based on custom registration data like you can with Brazen.
Best for: Organizations that do not want to track career fair performance or customize communication.

vFairs was founded offers a 3D environments-based virtual events platform for companies to host a variety of online events including training, trade shows, expos, and career fairs. vFairs is a software provider that allows company recruiters to host custom events specifically for their company, at the date and time of their choosing, and customer reviews are largely positive, with users touting the ease of use and good customer support as two key benefits.
The downside? Because of the wide variety of event options vFairs offers for their virtual experience, and the 3D nature of the virtual environment, recruiters and candidates may be overwhelmed or distracted by irrelevant features during the interactive event.
Vfairs Reviews
One user review noted: "with so many options and possible areas to explore, customers may have a hard time navigating and finding specific information they are looking for."
Best for: Small and mid-sized businesses that want a single platform to host virtual events for recruiting and non-recruiting purposes.

CareerEco hosts a variety of online event experiences, including virtual career fairs as well as online events for universities to connect prospective graduate students and alumni with employers, graduate schools, and other professional organizations. Clients include a variety of academic institutions and organizations focused on helping students and recent graduates launch their careers. CareerEco's features are not as robust as many others on this list, including limited registration customization, limited branding opportunities, and the ability to customize communication to specific candidates from the platform.
CareerEco promotes the environmental friendliness of virtual career fair and job fair events compared to physical ones and emphasizes their benefits in terms of time and money saved. It is a selling point which is applicable to all virtual event companies. For high-volume talent acquisition teams outside of academia or other educational institutions, CareerEco is probably not a good fit.
CareerEco Reviews
"I would like more information and access to information on the training and support available to organizations and job seekers," according to one CareerEco user review..
Best for: Colleges and universities, associations that work with students and recent graduates.


Easy Virtual Fair offers virtual career fair solutions for SMBs, universities, and government organizations. They have a mobile-friendly platform and the service is focused on connecting company recruiters with candidates who are "on the go." The platform is built on a 3D model, but has limited recruiting features and customization options compared to others on this list, but can be a good option for smaller businesses less concerned with scalability and customization. There aren't many user reviews available for Easy Virtual Fair but most are positive, applauding the platform's ease of use, "top-notch customer service," and video chat options.
Event hosts can also customize virtual events with their own branding and unlimited booths to tailor the candidate experience. Easy Virtual Fair offers reporting capabilities but appears to lack integrated custom communication and recruiting tools outside of virtual career fair events.
Best for: Small and mid-sized businesses.

6Connex is a virtual event platform that offers services to event organizers and sales and marketing teams such as virtual trade shows, virtual career fairs, virtual summits, and e-learning programs. This vendor can provide tools to create virtual events that replace in-person conferences, host hybrid events, or facilitate professional development for existing employees.
Using 6Connex for talent acquisition is just one of the many use cases this platform touts. Employers may prefer a recruiting software solution dedicated to the purpose of talent acquisition that has developed key features and tools necessary to recruit top talent and provide an exceptional candidate experience.
Best for: Companies that want a single virtual event platform for many types of events outside of recruiting.
Another solution born out of the COVID-19 pandemic, XOR focuses on helping businesses hire blue-collar and hourly workers. The XOR virtual career fair offering is available for one or many employers and offer some features similar to more robust hiring event platforms, including live chat and video. XOR offers fully automated talent sourcing, candidate screening, and interview scheduling—all powered by artificial intelligence. While AI tools can be very helpful in speeding up the hiring process, we'd caution employers about turning so much responsibility over to AI, especially amid a talent shortage. Today's job seekers demand and deserve a personalized candidate experience, which AI tools simply cannot deliver right now or in the foreseeable future. Reviewers noted that the chatbot library "isn't terribly vast and it was not giving proper responses, but the was fixed with some different scripting solutions."
Best for: Small and mid-sized businesses with high volume or blue collar hiring needs without a dedicated talent acquisition team

Other Solutions that *Might* Work
Some platforms were built for general virtual event management and not expressly designed for recruiters, or for limited purposes such as video conversations — yet some TA teams are using those solutions to host virtual career fairs, with mixed results. Here's a look at some of those platforms.
The eCareer Fairs website includes very little information about their platform. The handful of customer testimonials are all from small companies. According to the site, their platform includes online candidate registration, recruitment marketing services, unlimited virtual event booths, one-on-one meetings with chat or video, and event metrics. While the platform seems to offer the basic structure for virtual interviewing, we'd hesitate to call this a true virtual career fair solution, since it lacks live streaming capabilities, group video, and some of the other key features that help employers host engaging, immersive virtual recruiting events and integrated communication and automation features.
Best for: Employers looking for a basic virtual interviewing platform, not a white-glove service.

Career Fair Plus is another vendor that offers a virtual interviewing solution rather than a true virtual career fair platform. CF+ offers one-on-one and group video chats with customizable timeslots, virtual booths with recorded video candidate profiles, and analytics. There isn't much information on its website about the solution—nearly every product page dead-ends with a contact form. We'd like to see more about CF+'s features, including event screenshots and videos, to learn more about how this option stacks up against others on the list.
Best for: Small businesses that need a virtual interviewing platform and not a true scalable hiring event solution
Zoom saw a huge influx of users during the pandemic as it became one of the most popular ways to stay connected with friends and family while physical events were discouraged and social distancing was the norm. While Zoom wasn't designed as a virtual career fair platform, many recruiters rely on the video conferencing tool to communicate with prospective employees. However, beyond conducting a few video interviews with candidates, Zoom is not built to manage the process of efficiently screening, interviewing, and hiring at the scale of a true virtual career fair platform. Trying to schedule and conduct interviews with more than a few candidates will become extremely cumbersome. Currently, Zoom does not offer features that directly support hosting a virtual career fair and there are no built-in features to track event performance. While Zoom is a good option for one-to-one or group video conversations, it is not a good fit for organizations wishing to host virtual career fairs.
Best for: Conducting single instance individual or group video interviews
Virtual Career Fair Platform Features
Multiple-device accessibility: A virtual career fair platform has to have an easy to use, mobile-friendly candidate experience. Look for a platform that candidates can access from their desktop or mobile device, without any additional software downloads required.
Live chat: An ideal virtual career fair platform equips you to chat with candidates via text, audio, and video based on each chat session.
Video interviewing: A robust virtual career fair platform enables you to screen and interview candidates directly on the platform with no additional third-party integrations needed, all native within the platform - and equipped for multiple device types, including desktop and mobile video interviewing.
Video broadcasting: With a video broadcast feature, you'll be able to present to all candidates simultaneously in a live presentation on the platform. Ideally, there's a broadcast chat discussion feed, the ability for many presenters to participate, and broadcast recording features as well.
Interview scheduling: With native interview scheduling, a virtual career fair platform will allow you to schedule conversations with candidates prior to a career fair event so that you can ensure your team is prioritizing conversations with top candidates. You can also use these for recruiter screening calls and hiring manager interviews - all within one recruiting event.
Event promotion tools: Recruiting event promotion tools like event tracking links, custom landing pages, job requisition plug-ins, and a sourcing marketplace that enables you to drive targeted job seekers to your hiring events help you get the right candidates to your hiring events.
Custom branding: A virtual career fair platform with its own content management system will enable you to fully customize an event brand and experience. You want to look for a platform that allows you to share welcome videos, downloadable content, booth-hosted content, and more so that you can provide candidates with the most relevant information about your organization - all with your own unique branding and messaging. It's also important to consider the customization capabilities of the event landing page.
Customized booths and event lobby: With a true virtual career fair platform, you'll find a host of key features that set them apart from free video conferencing tools that create a better candidate experience. For example, an event lobby welcomes candidates, shares information, and is easy to navigate. Booths that are customized to each employer, department, team, or factor that employers wish to feature create an engaging candidate experience.
Follow-up features: A great virtual career fair platform does more than simply host the event; it enables your team to quickly follow up with top candidates and move them on to the next steps. Look for calendar integrations, email and follow-up capabilities, and more. This is an important area where the right platform can really boost your return on investment, so don't overlook this feature set.
Analytics and reporting: Look for your virtual career fair platform of choice to give analytics on attendance rates, chat data, sign-ups, ratings, and more. It's also important that key features such as tracking links and customizable registration fields are available to enable deeper analytics capabilities. Also, consider whether or not you get access to real-time insights before and after each event, including attendee lists, resumes, and more, because not all solutions will provide you with this.
Candidate screening tools: Save valuable recruiter time with customizable registration forms that enable your team to move some candidates forward to attend the event, and equip you to follow up with unqualified candidates about opportunities that better align with their experience and skills.
Customer support: With so many different types of users participating in virtual career fairs - from candidates to recruiters to employers to hiring managers - it's critical to have a robust support team that is skilled in helping every type of user with their needs. Make sure that live support will be available during events via online chat or phone

Virtual Career Fairs Platforms: The Key to Virtual Recruiting
When building strategy for using virtual recruiting events, hybrid events, and in-person career fairs, talent acquisition professionals and universities need to partner with a technology vendor that understands today's challenges and has been around for the long haul. Finding a vendor that comprehends the TA ecosphere and recruiting process in a holistic way, beyond the immediate goals of sourcing and hiring, can be a challenge. By comparing vendor services in the context of the the demands of hiring process, talent acquisition leaders and company representatives can make informed decisions about where to invest in a virtual career fair platform that can ultimately save time, money, and improve both the candidate and recruiter experience.
Still not convinced virtual career fair software fits into your recruiting and talent pool-building strategy? Read more in this post about how online career events and hiring fairs will save your company a lot of time and money.

Frequently Asked Questions: Virtual Career Fair Platforms
What is a virtual career fair platform?
What exactly is a virtual career fair platform or virtual hiring event platform? A virtual career fair is a type of online recruiting event that helps recruiters and hiring managers interact with job seekers at various stages of the candidate journey. These events are one component of an effective virtual recruitment strategy. A virtual hiring event platform is a tool designed specifically for this purpose.
How much does a virtual job fair platform cost?
The price of a virtual career fair platform will vary depending on a few different factors: how often will you be hosting a virtual career fair, how many candidates will likely attend, how many employers or people on your team will there need to be to manage the event and engage with candidates, and what is the size of your organization. Plus, the price of a virtual job fair platform will vary vendor by vendor. Let's start with some basics:
Price of a virtual career fair platform for larger corporations: A minimum of $15,000 per year.
Larger corporations often have larger hiring needs and will likely benefit greatly from a virtual career fair platform. These organizations will likely be hosting multiple events across the year and need dozens or hundreds of user seats for their recruiting team to be able to get access to the virtual career fair platform, which is an important factor in the overall price. However, considering the time platforms like this can save recruiting teams, using a platform built specifically for virtual career fairs usually represents a significant savings in both time and money, resulting in a positive return. A new factor to consider is whether your virtual career fair platform will help you manage both virtual an in person events - using one platform for both use cases will help you consolidate costs.
Price of a virtual career fair platform for SMBs: A minimum of $4,000 per year.
Small and medium size businesses likely have fewer open roles and smaller recruiting teams, meaning the factors that go into the cost of a virtual career fair platform will result in a lower overall cost for a virtual career fair platform.
Are there free virtual career fair platforms?
Several tools out there like Zoom, Teams, or Webex may appear to be cheap or even "free" options since you may already have access to these tools within your organization. However, buyer beware! There are often hidden costs associated with these tools. Unlike some of the more established virtual career fair platforms in the space (like Brazen), these "free" tools require considerable management and investment of time outside of the platform. Just because you can conduct a video interview with a candidate one-on-one via Zoom does not mean that it is a good option for hosting a virtual hiring event. It is difficult if not impossible to scale these tools to make them viable for screening and interviewing dozens or hundreds of candidates within a matter of hours, whereas a virtual career fair platform like Brazen has been built specifically to make this entire process easy, intuitive, and efficient for everyone involved - from candidates to recruiters to hiring managers. Imagine being able to conveniently direct hundreds of candidates to sign up for one hiring event at a specific time and easily coordinate conversations, pre-schedule interviews - and be able to offer information, live presentations, and more to candidates all at the same time. Similarly, using a standalone video tool means that interview scheduling, follow up, and candidate rating all has to be managed manually. In short, you can use other tools to conduct video calls with candidates. But free tools will cost significant investment of time, additional tools, and resources - and likely won't offer the same results as a tool that has been designed specifically for TA teams to screen, coordinate hiring manager interviews, rate, and follow up with candidates within a matter of hours.
These "free" tools are severely limited in their capabilities. Proceed with them at your own risk.