In early 2020, most of the recruitment events that employers planned were quickly derailed by COVID-19 pandemic. Shelter-in-place orders, campus closures, and a transition of a large portion of the workforce to remote work prompted a shift from largely in-person to fully virtual recruitment.
The first few months of virtual recruitment may have felt like trial by fire, especially for employers and job seekers who had never participated in an online event or virtual interview before. But even post-COVID, the new normal will be to use "hybrid recruiting," in which both in-person and virtual recruiting tactics are used together as part of a comprehensive recruiting strategy.

As we look ahead to the future of recruiting, now is the time to see how virtual recruiting can become part of your talent acquisition playbook in 2021 and beyond. Here are a few ideas to get started.



1. Host Virtual Recruiting Events at All Stages of the Recruitment Funnel
A significant part of virtual recruiting involves hosting virtual hiring events. Even before COVID-19, you may have participated in some virtual career fairs, which simulate in-person events designed to bring large numbers of employers and job seekers together. While career fairs are the most well-known type of virtual hiring event and should still be part of your strategy, there are plenty of other opportunities to reach candidates at different stages of the pipeline -- and sometimes these smaller events can really let your workplace culture shine and set you apart. Here are some possibilities:
Virtual information sessions and Q&As
Virtual open houses
Virtual networking events
Thought-leadership webinars and presentations
For example, virtual info sessions and webinars allow you to build awareness of your company early on in the recruitment process, perhaps before you open applications for a job opportunity or a summer internship program. Info sessions might include a panel discussion with members from your talent acquisition teams and current employees from different departments in order to give a holistic view of what it's like to work for your company, and they will probably include a Q&A or virtual info session at the end. Once your company has returned on-site fully or partially, you could also conduct a virtual "behind-the-scenes" tour of the office space.
To facilitate more personal connections, you can also host virtual networking events that focus on one-on-one discussions between potential candidates and current employees. Incorporating some informal virtual events into your holistic recruitment plan can further humanize your company, personalize the candidate experience, and express your company culture.
For even more virtual recruiting event ideas and examples, click on this article.
2. Develop Partnerships with Industry Organizations and Universities to Reach Larger Pools of Candidates
While most universities have returned to in-person instruction, many campus recruiting events are likely to have been postponed or changed to a digital format. Many industry organizations are also putting large in-person conferences and events on hold for the time being. If you've worked with universities or industry organizations in the past as part of your recruitment strategy, see if you can participate in any virtual hiring events they are hosting - virtual college career fairs are growing quite popular. Since your recruitment (and possibly even your workforce) is no longer restricted by location, you can also try developing relationships with new universities or industry organizations. This will enable you to expand your reach and get your name in front of even more candidates, increasing your candidate pool.
3. Source Candidates Using Digital Marketing Resources
While in-person events remain on hiatus, most of your recruitment marketing will need to go digital, in case it isn't already. That includes leveraging resources like:
Your careers website
Social media channels
Email marketing or integrated platform messaging
Lead capture tools such as a recruiting chatbots
Culture-focused video content with employee stories, pre-recorded interviews with company leaders, and organizational values
Programmatic advertising
Managing employer reputation on employer and consumer review sites and company profiles
Digital employee advocacy tools and internal referrals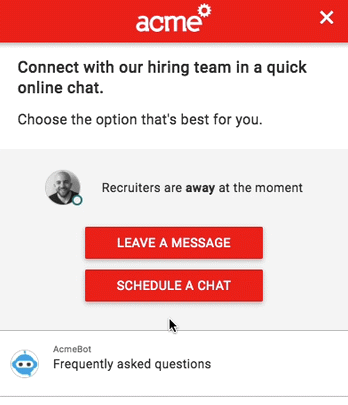 A good place to start is maintaining an active presence on social media, and taking ownership of your company's Glassdoor profile. These are two resources that many job seekers use to learn more about a prospective employer. Recruiters can also use LinkedIn more actively to search for prospective candidates, using criteria such as job function, university, location, skill, or years of experience.
If you haven't already, refresh the careers page on your website with some fresh employee testimonials, recruitment brochures, and information about upcoming programs. If your company is planning to remain WFH well into 2022, make sure your career site talks about what remote work looks like within your organization, from the onboarding process to making sure employees feel supported in their role. This is a key question that both in-person and remote candidates want more information about, so find ways to address it in your virtual hiring process.
When it comes to email marketing, use candidate information you've captured through previous events and job applications to build a list of prospects who might be interested in a new role you're recruiting for. If you're working with universities, you can also ask for your virtual recruiting events and jobs to be posted through their career portal or in their newsletter.
Some virtual hiring event platforms also include event promotion tools, which can help you build your list of prospective candidates. For example, Brazen enables you to build landing pages and promote your jobs and events on job boards.
4. Use Virtual Recruiting to Diversify Your Talent Pipeline
With in-person recruiting, recruiters are severely limited by time and geography. But when these geographic barriers are lifted because of a virtual event, there are far more opportunities to connect with job seekers who come from different backgrounds. As employers are placing more emphasis on creating inclusive workplaces and fostering diversity, equity, and inclusion, virtual hiring events can promote greater access for underserved populations.
One way a hiring team can diversify their talent pool is to host virtual recruiting events that focus on underrepresented communities. You could create a virtual mentorship series to connect prospective candidates from these communities with current employees, or host a virtual workshop to introduce them to the company and offer tips for the application process. You can also look into partnerships with organizations such as the Grace Hopper Conference or host events specifically for HBCUs, women's colleges, and tribal colleges and universities.
5. Remember to Follow Up!
It doesn't matter how good your virtual recruitment strategies, recruitment marketing, and virtual events are if you don't continue building a relationship with candidates throughout the interview process! In an all-virtual recruitment process, your follow up becomes even more critical in providing a great candidate experience and helping prospects have a good impression of your organization. There's nothing worse for all-virtual job candidates than radio silence from a potential employer.
So, make sure you capture contact information for event attendees and job applicants with candidate relationship management tools so that you can create a targeted follow-up. Adding some personalization to your virtual recruitment process can make you stand out as an employer who truly cares and ultimately help you attract top talent.


Stay in the Loop. Join 10,000+ Talent Acquisition Leaders

Enjoy this Post? Try These!